It is incredible how each day I fall more in love with my son. We are so blessed that God chose us to be Jacob's parents and we want to share his amazing story.
Sharing Jacob's story will give us hope knowing that we may help other parents out there who may be facing the same situation we went through. We pray his story gives you strength and courage knowing God will be with you every step of the way, in both the good times and the difficult ones.
Jacob's Birth
Our world changed forever when our son Jacob was born in December 2013. I was 37 weeks pregnant when my water suddenly broke at home. We strolled into the hospital at 11:00 pm just in time. I was already 4 cm dilated and the nurses were preparing us for the night and letting us know he will probably be born in the next few hours. The nurse checked me one more time before exiting the room when the look on her face turned to shock as she announced, "you are already dilated 10 cm. It's time to push". She rushed out of the room calling more nurses in and trying to get the on-call doctor in as soon as possible. Before we could even grasp what was going on, baby boy Jacob was born at 2:30am.
We figured everything was just fine, Jacob scored 8 and 9 on his apgar score and we were feeling the pure excitement that comes with experiencing the birth of your first born child.
We barely slept the next few hours with the anticipation and joy of new beginnings, but little did we know we would be facing heart breaking news in just a few short hours.
The nurse came in and mentioned they will be taking Jacob to the nursery so the pediatrician could evaluate him.At first, I thought it was strange they didn't examine him in-room, but being sleep deprived, I could barely muster a word of argument. So I let them wheel him to the nursery and we closed our eyes for a few short minutes. The nurse brought Jacob back to our room and the pediatrician followed close behind. He quickly examined Jacob in front of us and started listing things he was noticing about my son that were raising concern. I could barely process all the medical terminology he was using as I watched him turning Jacob over in his hands. The last thing I remember hearing him say, "we will be taking a blood sample to run a chromosome analysis test and we need to order x-rays of his abdomen and legs." At that moment my mind went blank. I felt numb and empty, my heart felt as though it had stopped. I looked over at my husband and he had the same ghostly look on his face as we watched the doctor rush out of the room before we could even pull our minds out of the fog of pain to ask questions.
I didn't understand. This couldn't be happening, not to me. We were young, the pregnancy went great, with no complications. The next few hours were painful, as 6 hour old parents, we were faced with the thought that something was wrong with our baby. It took all my strength to move and I scooped up our son and held him tight and wept. I looked over at Ryan, at his tear soaked eyes, and with a weary voice exclaimed, "we will give our son the best damn life, we will love him, no matter the results". We both vowed at that very moment that we would love our son and provide the care he would need to live an abundant life.
I couldn't bring myself to call anyone. How could I face the endless questions and comments "how is he doing" and "isn't this the best moment of your life"? I knew my heart would shatter the moment I heard these questions, so I silently cried as I continued to hit ignore with each phone call that came in. This was not how I pictured the birth of my son. I expected to be on the phone sharing our birth story and feeling the joy that comes with being a new parent, but instead my heart was grieving. I began to pray, and I shamefully prayed for the doctor to be wrong, because I couldn't face the fact that my baby might have a chromosome disorder.
The next few hours dragged on. I didn't know how to react or how to feel. Where was I supposed to begin? I am a planner and this was not part of my plan. Ryan finally broke the silence and we started wondering what diagnosis the doctor was trying to make. When we heard the words "chromosome disorder", you instantly picture the worse case scenario. Ryan began scouring the internet for answers. We tried to remember all the medical terms the doctor had quickly rattled off "macroglossia, hypoglycemia, diastasis recti, sacrum abnormalities, abnormal facets". I couldn't bring myself to google anything and a small part of me still hoped for a miracle, and that everything was fine, but deep down inside I knew this was just the beginning.
Jacob had been home for 2 days and we were starting to feel that life may just end up being normal. He was eating every 2 hours, and acting like a normal newborn. The only thing we all noticed was his enlarged tongue that he kept sticking out of his mouth. But, on Monday, 6 days after his birth, I had that gut feeling that something was wrong. I couldn't keep him awake to eat, and when I tried to hold him, he felt like a rag doll with limp lifeless arms. He already had a doctor appointment, so I tried not to worry, knowing he would be checked on soon. At his doctor appointment they noticed how jaundiced his skin appeared, and they took several blood tests. I kept telling the doctor that he was difficult to wake up and we couldn't get him to eat and latch on. But, they sent us home, so I figured everything would end up being just fine. We finally sat down to rest on the couch when Ryan noticed he had missed a call from our doctor who told us to bring Jacob to the emergency room because his bilirubin levels were dangerously high.
I tried not to worry, but walking your child into the hospital and being rushed to the NICU is never an easy experience. They immediately hooked him up to an IV, and I helped hold him, fighting back tears, as my newborn baby screamed in my arms.
The next few days were a roller coaster of ups and downs. The doctor confirmed our worse nightmare, as she affirmed the same abnormalities the first pediatrician had noticed, and she clinically diagnosed our son with Beckwith-Wiedemann Syndrome. My heart shattered into tinier pieces than before and I was left with a numb feeling of pain. I had never even heard of this syndrome and everything about it was foreign to me. It doesn't matter what your child is diagnosed with, but as soon as you hear the words "syndrome" your world falls apart knowing life will not be the same for your little one.
The NICU doctors continued to try to treat his hypoglycemia and jaundice, but they couldn't get his bilirubin levels to come down or stabilize his blood glucose levels. They began discussing the possibilities of having a blood transfusion if his bilirubin didn't improve. Jacob was not allowed to eat for 24 hours and they had him strictly on the IV. It was torture watching my hungry 7 day old baby cry under the bili-bed and there was nothing I could do. I silently prayed. I could barely eat or sleep, my mind could barely grasp the hubbub of the NICU, the constant beeping of machines monitoring his vitals, and the distant cries of other infants. I would just sit on the make-shift bed and watch him sleep under the multitude of lights. The doctor's eventually took him out of the bili-lights and allowed me to bottle feed.
Ryan and I started to do our own research and discovered that Beckwith-Wiedemann Syndrome is a chromosome 11 disorder. You can find more information about this syndrome here. It is rare and is classified as a growth disorder. This explained a lot with his enlarged tongue, kidneys, and liver, as well as his large birth weight. He was 7 lbs 15 oz at 36 weeks. The hypoglycemia was another symptom related to the disorder, and we discovered that most babies are able to overcome this on their own with proper diet and feedings.
He was having a difficult time latching on and sucking due to his large tongue. The doctors were concerned with his weight gain and his blood glucose level so they decided to place a NG-tube, which goes in his nose down to his stomach. My heart ached watching the nurses place the tube in, and I silently prayed again for strength.
They would allow us to bottle feed him for 30 minutes and whatever he had not finished would be fed through the tube. Jacob would suck a tiny bit and then begin to dose off again. We tried everything we could to get him to eat from waking him up with wet wipes to trying every bottle and nipple combination on the market. Nothing seemed to be working, and the added stress of being timed by the nurses was more than I could bare. Tears streamed down my face as I gently urged Jacob to eat, while I watched the clock tick on with no success. I was helpless and feeling defeated. The nurses couldn't even get him to finish a bottle. As the days continued on, I felt as though we would never overcome his feeding struggles.
Every day I prayed that we would be able to leave the hospital, but instead we were faced with countless blood tests and examinations from X-rays and MRIs to watch the blood on his brain to ultrasounds of his abdomen, liver, and kidneys. The doctors were constantly taking blood samples and running tests. Jacob's feet and arms were covered with excessive needle punctures and at one point the nurses couldn't find a new area of skin on his heels where he hadn't been pricked. The worse day was when they needed to take several vials of blood and the team of nurses tried for an entire hour to draw blood with no success. I cringed as I watched them dig the needle around in his veins. All I could do was stroke his head, and continue to whisper, "I love you, it's going to be okay". I prayed that this would be the last time I would ever have to hold my screaming baby down. Even with all these blood tests we seemed to be getting fewer answers. An MRI was done the next day because they noticed his head size could be related to microcephaly, and they feared he had brain damage due to his glucose levels dropping so low. The doctors didn't seem to know how to treat our son as they looked for answers with his rare syndrome. I had been in the NICU without leaving his side, which meant I hadn't showered or changed my clothes for almost a week. Days felt like weeks, weeks felt like months, and I was beginning to feel the weight of sleepless nights catching up to me. But life beyond these cold dark walls continued on and I longed to be able to take my baby home. To breathe the fresh air, to walk him in his stroller, or just hold him in the rocking chair without a multitude of wires constantly getting tangled and beeping with every wrong move.
Jacob ended up spending his first Christmas and New Year's in the NICU at the Children's Hospital. We were finally discharged in January.
Children with Beckwith-Wiedemann Syndrome are at a high risk for developing certain childhood cancers. We go to the hospital every 6 weeks for blood draws and every 12 weeks for ultrasounds. It is an endless amount of testing, and the constant hospital visits are emotional. Looking back at our time in the NICU and finding out about his diagnosis was extremely difficult, but the burden of the unknown has been lifted, and we can now move forward and face the path we have been given.
We are so thankful for our family and friends who showed so much support for us through this difficult time. We are grateful for the hospital visits, homemade food, and countless phone calls and prayers from those far away. Your support really did give us the strength we needed to get through each day.
Hello, My Name is....
Jacob loved meeting all his visitors. It meant so much to us that you were there. We are so blessed to have such loving and supportive friends and family.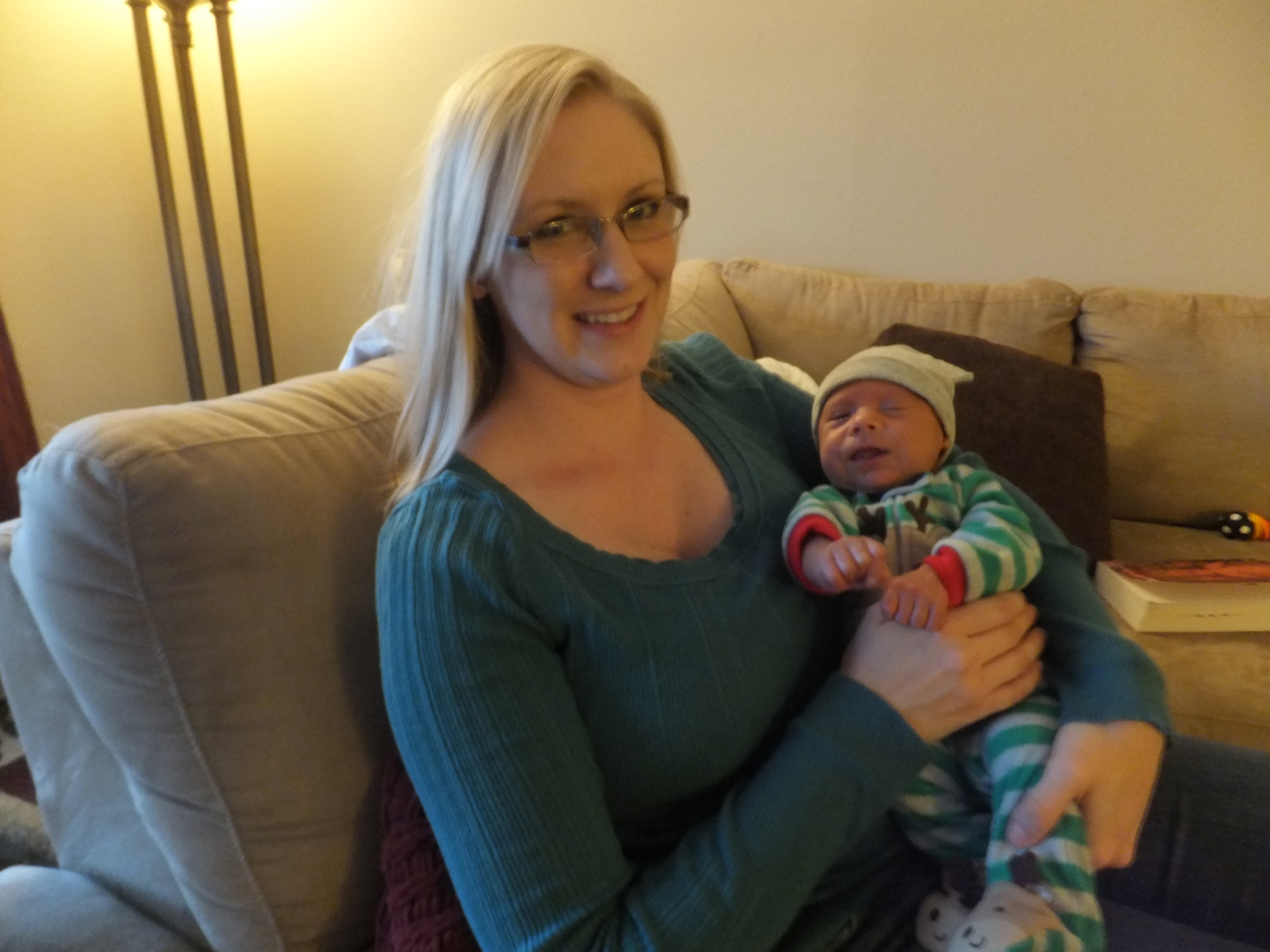 My First Outing
Celebrating Christmas in January
My story continues...
You may be interested in the following articles relating to BWS:
Life in the NICU - My top ten suggestions for those facing life in the hospital.

Feeding Issues - How we coped with the struggles of feeding due to macroglossia.