Arrived at the Ronald McDonald House in Saint Louis, MO
June 10, 2014
You know those people who are the last ones to board the plane, and they frantically arrive with bags in hand as they make their way down the narrow aisle bumping everyone's shoulder on the way as they look for seats. Well I will no longer judge, because I have crossed to other side and we were THOSE people with a baby in hand and a Starbucks drink in the other!
We arrived at the Phoenix airport 2 hours before our flight. I figured we had plenty of time, so we waited paitently in line as we checked our bags. Jake was content and just giving random passerbyers a smile or two. It took us 45 minutes to get through the ticket check-in. We strolled up to security and the rows were completely filled with travelers. As we walked up the security guard pointed us towards the family line. I was feeling as if I had won the lottery being able to walk past most of the passengers who had obviously been standing in line for a much longer time than they had anticipated. It took another hour to get through security, but I was still half asleep and feeling a little frazzled so I hadn't checked my phone and I assumed we still had plenty of time. Once the TSA cleared my breast pump bag and breastmilk, we leisurely strolled towards our gate. We saw a Starbucks and Ryan ordered us coffee while I walked Jacob in the carrier to put him to sleep. I was feeling relaxed, and an accomplished mom for having made it through security with a baby who was now fast asleep in my arms. We begin to make our way down the hall to our gate. I kept noticing several passengers running past us to get to their flight and I remember thinking "I'm glad that's not us", and just as I was about to say my next thought, the intercom system announced our flight number. "That's odd," I thought, since I assumed we still had plenty of time before boarding. I go ahead and ask Ryan what time is it, and he replies, "Its 6:07". What! Our flight departs at 6:10 am, and before we know it, we are the ones running frantically through the hall to our flight. As we step on board, we are the ones receiving the shameful looks from the other passengers, as we arrive with arms full. A baby strapped to my chest, a diaper bag on my shoulder, a car seat in one hand and the Starbucks drink in the other. I bump my way down the aisle, apologizing for the bruised shoulders, and scanning the seats for any rows that don't just have a middle seat left open. Thankfully God was watching over us, because we made our flight and found one last empty row so we could all sit together.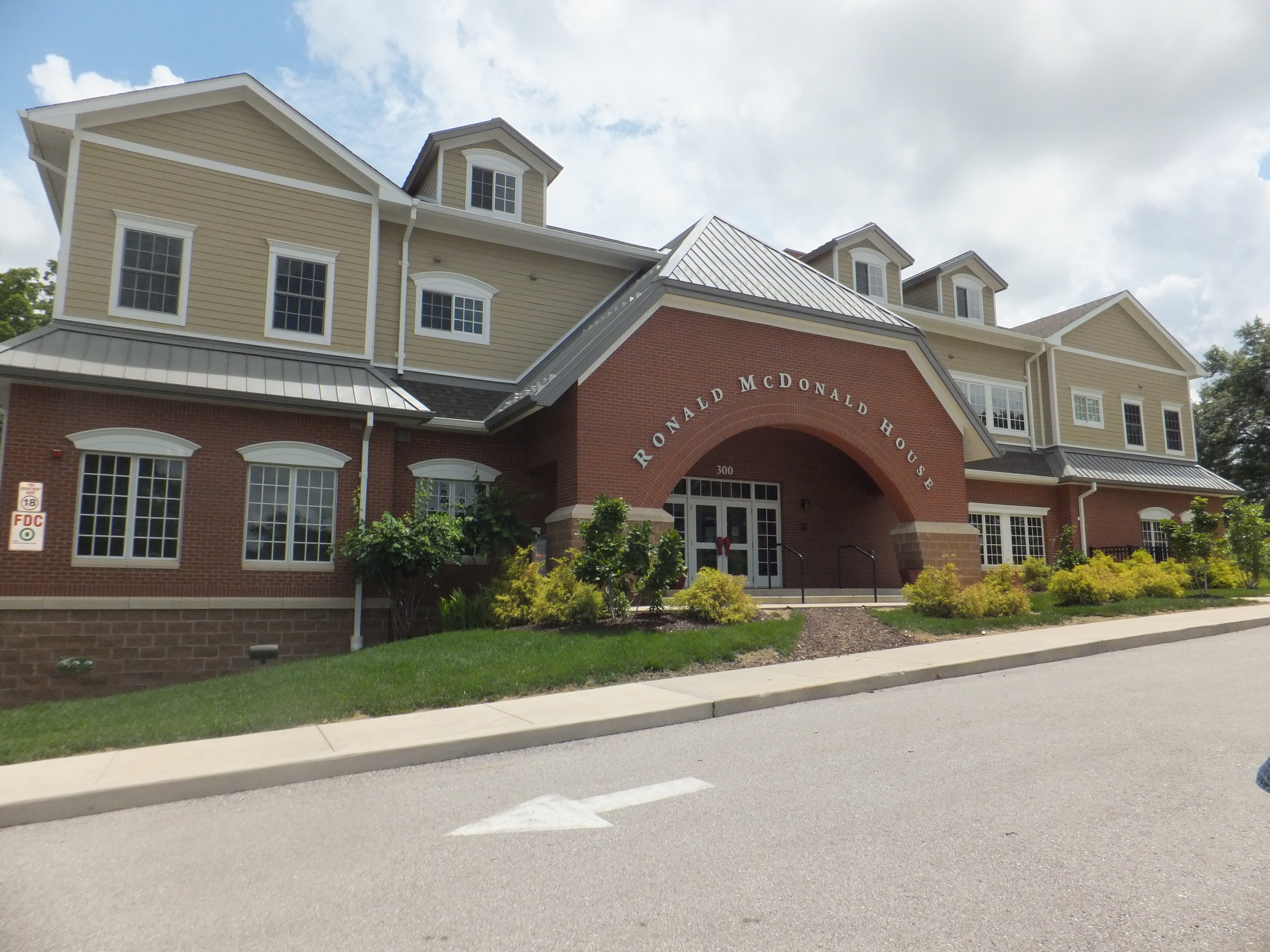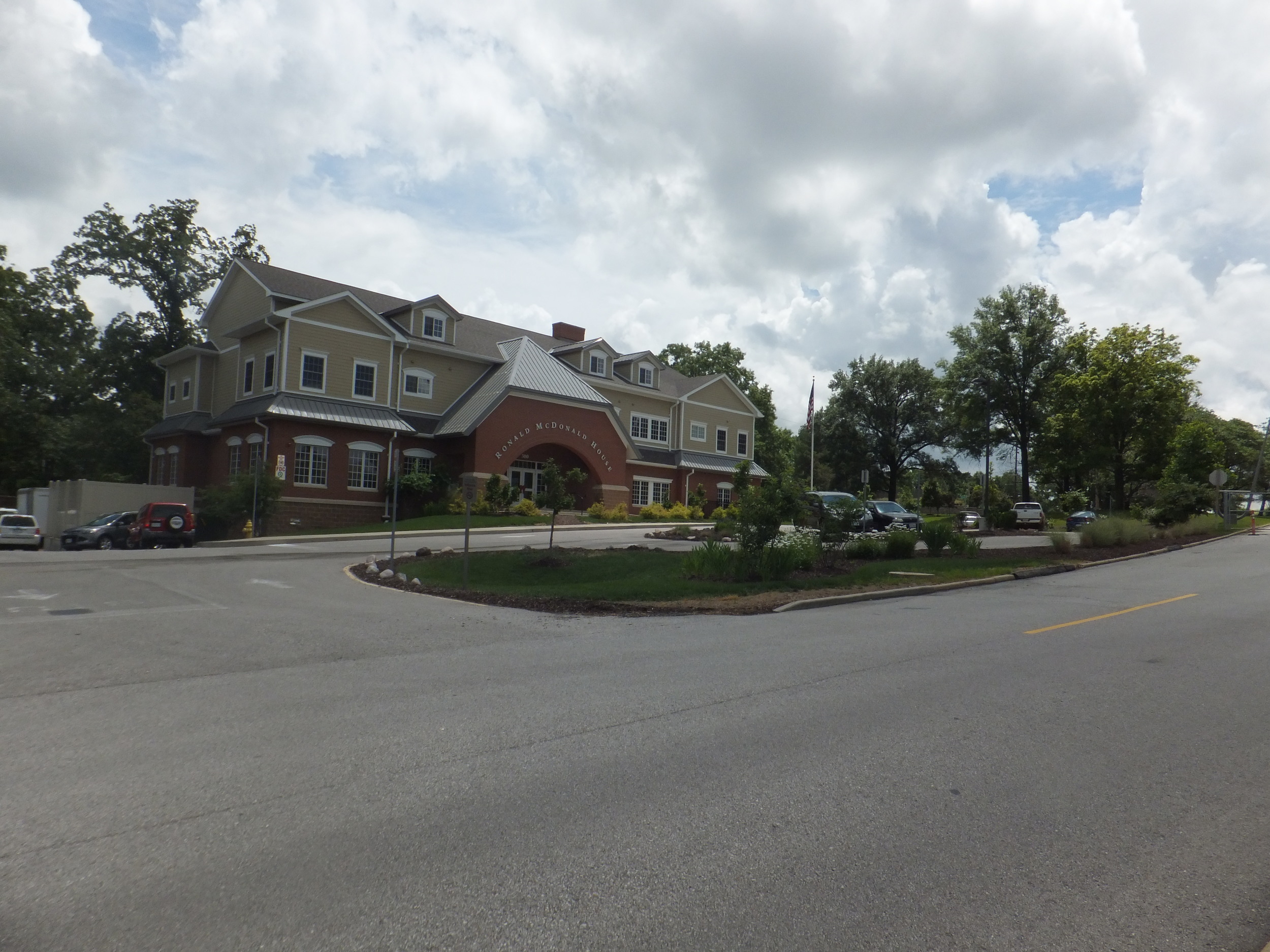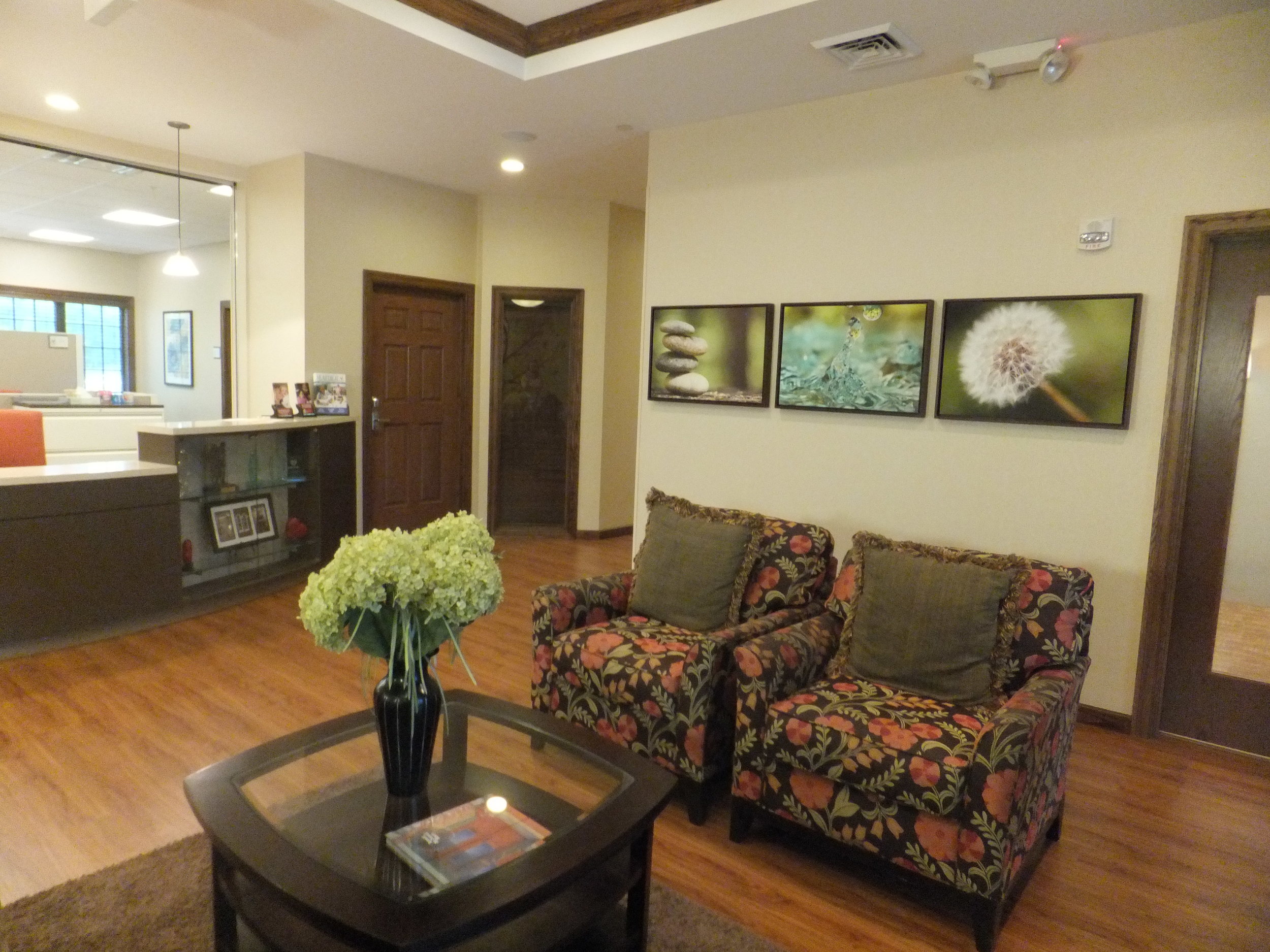 The Ronald McDonald House is amazing. The staff is welcoming and very attentive to our needs. The house itself is absolutely beautiful, with a full kitchen, dining room, playroom for the kids, several sitting areas, playground, and picnic tables. Daily dinner meals are provided by local community members or organizations. We have been very impressed and plan to make a donation in honor of Jacob before we leave.
The big day is tomorrow.
Jacob's Pre-Op
June 11, 2014
At his pre-op they almost decided to postpone his surgery due to his tongue causing breathing issues, but the doctor decided to go through with it and they will be monitoring him closely with a tracheostomy ready if needed post surgery. We are now anxiously waiting to hear an update from Dr. Marsh.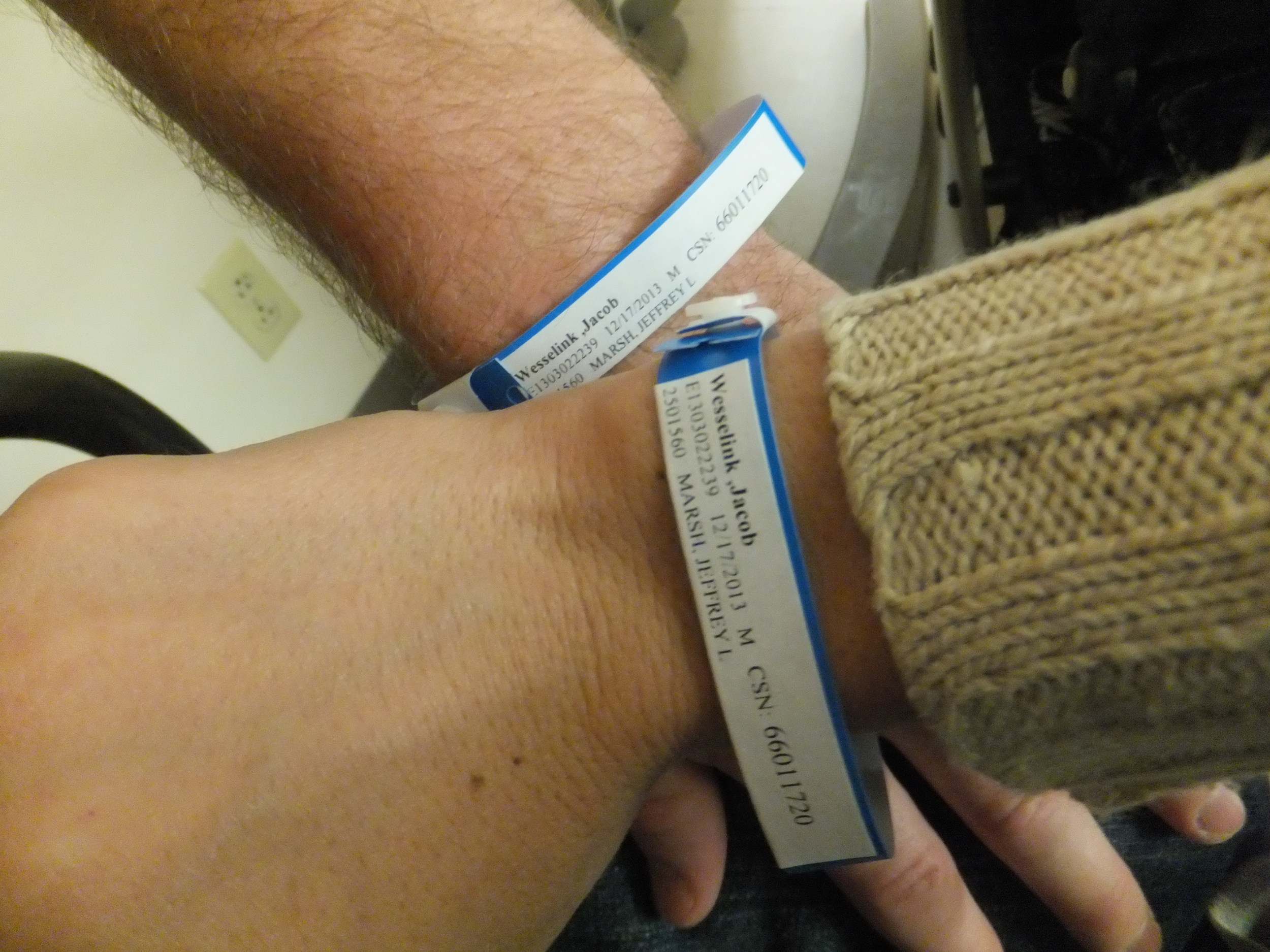 Post-Op
June 11, 2014

It took about 2 hours before we were able to see our little Jake. The waiting was the most difficult time. His tongue was causing severe obstruction to his airway prior to surgery, and we were told that he may need a trach if he is unable to breath correctly on his own after the operation. We were stressed and worried as we anxiously waited to hear a report from the surgeon. "Ryan," I said, breaking the glass of silence in the room. "I really have to use the restroom". Ryan looked over and shrugged, "then go real quick." "But, I know as soon as I leave, the doctor is going to call!" Ryan looked at me helplessly. "I can't hold it any longer!" I blurted. So I ran as quickly as I could, and sure enough I had missed the doctor's call. I silently cursed my tiny bladder! I waited expectantly for Ryan to fill me in on the details. If only I had thought to give him a pen and paper so he could relay the information word for word!

Dr. Marsh had reported that everything went well, he rated Jacob on a scale of 8 out of 10 (10 being the worse) in terms of tongue and jaw relation. Jacob already has a 10mm anterior bite, and his jaw has shifted, which means it is impossible for him to close his jaw. Since, he had the surgery done early, at 6 months old, they are hoping this will give his mouth ample time to reshape and not need jaw surgery later down the road. Even though this was not the news we wanted to receive post-op, it is reassuring as a parent that we made the best decision in having the surgery done now rather than waiting. His pediatrician and geneticist kept telling us to "just wait and see if he grows into it". Had we waited, he would have needed both a tongue reduction and jaw surgery. Not to mention possilby needing to be on a CPAP machine for oxygen.

A nurse came into our waiting room to bring us to see Jake. My mind was racing as we were led back to the recovery room. Would he be awake and upset? What if I couldn't console him? They prepared us for what to expect when we first see him. He was grunting and crying when we arrived. My heart ached having to see him arch his back and whimper. He was upset, but according to the nurses, doing surprisingly well. I fought back tears and tried to stay strong so he wouldn't sense my stress. I stroked his head and whispered in his ear, while Ryan gently patted his back. He eventually drifted off to sleep for a short while.
*Note to reader: the images may be graphic. We decided to post these pictures so other families who are considering Tongue Reduction Surgery can see the full healing process.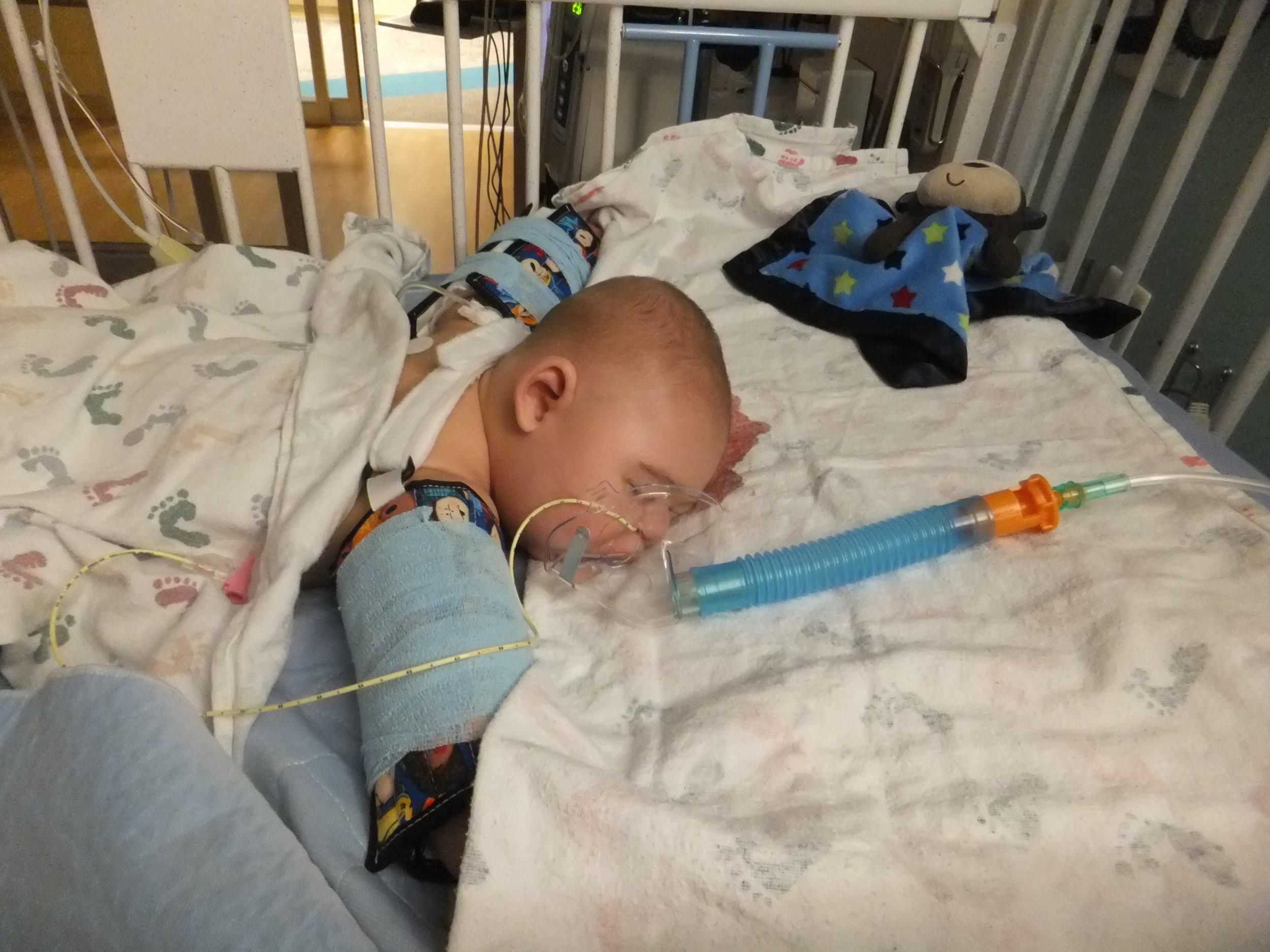 The PICU room was finally ready and they wheeled him to his room upstairs. The nurses gave him steroids to help with his swelling and breathing. They quickly put him on oxygen when his levels dropped low. We silently watched and waited. He continued to sleep off and on, taking short naps and waking long enough for us to rush to the side of his crib and soothe him back to sleep.

The constant worry and hustle and bustle of the hospital helped keep my mind distracted. Ryan talked me into leaving the room to freshen up and take a breath. I reluctantly left and began walking the halls of the large hospital when I came upon these words written in big bold letters on the wall
Do not be afraid for I am with you. Isaiah 43:5
That's when reality hit me. I had been holding it together for so long, bottling up my fears, and it hit me all at once. I started to rush for the door as I felt a flood of tears ready to burst, but began repeating the verse in my head, and suddenly I felt this amazing peace come over me. It is something I can not explain, but I knew right then and there that God was holding my hand and watching over my son. At that moment, I knew we were going to get through this.
Day 1 Post-op
The first night was very difficult for all of us. Jacob only slept for short periods of time. The nurses eventually let me hold him and he fell asleep on my chest. He was upset during his wakeful periods, but beginning to relax. We did our best to keep him distracted which seemed to help, from watching cartoons to looking out the window, and even singing silly songs.
This morning would be his first feeding by bottle. His ability to feed well determines his length of stay in the hosptial. He hated having the feeding tube in and kept trying to rip it out. It was a full time task trying to keep his hands from his face so he wouldn't have to wear the arm splints.
DeAnn, the nurse practioner, does the first feeding to show us how to use the bottle designed to help him eat after surgery. It looks like a squeeze bottle with an extra long nipple.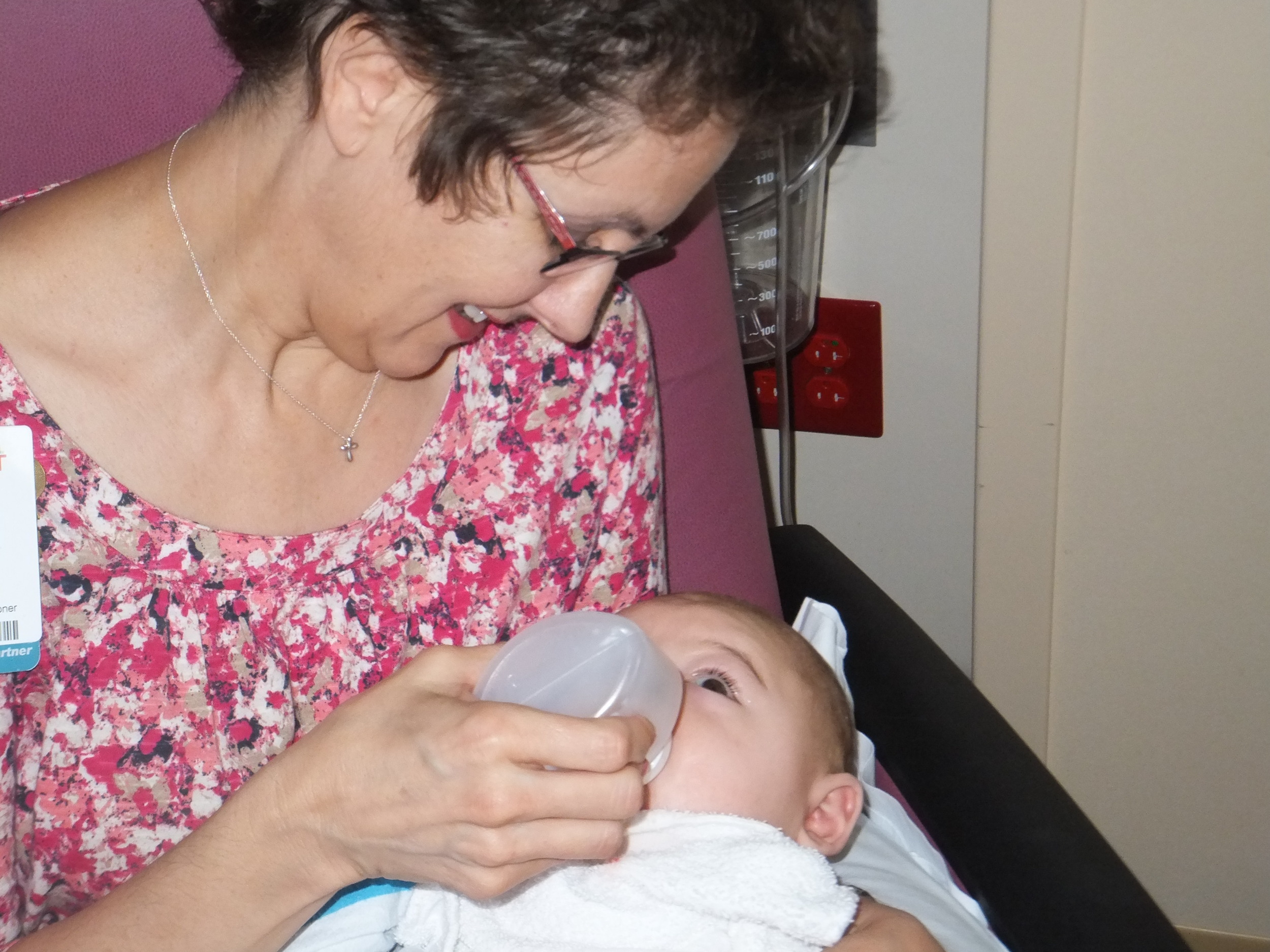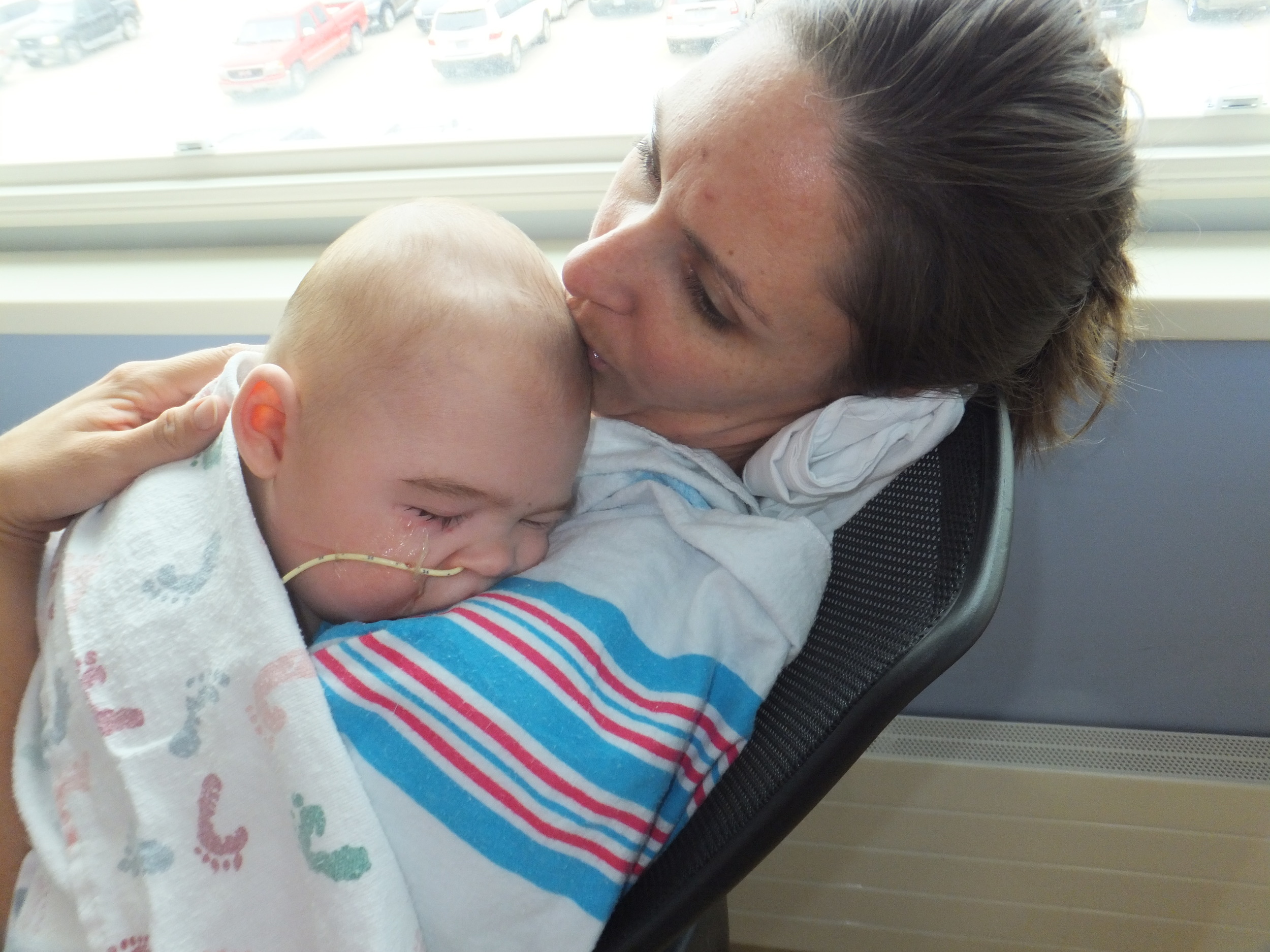 Jacob fed from the bottle surprisingly well for his first try. DeAnn game him an A+. Although subsequent feedings were much more difficult.
I was surprised how alert he was on the first day and even though he was still droggy he already wanted to play with his toys. This gave me hope that he was healing.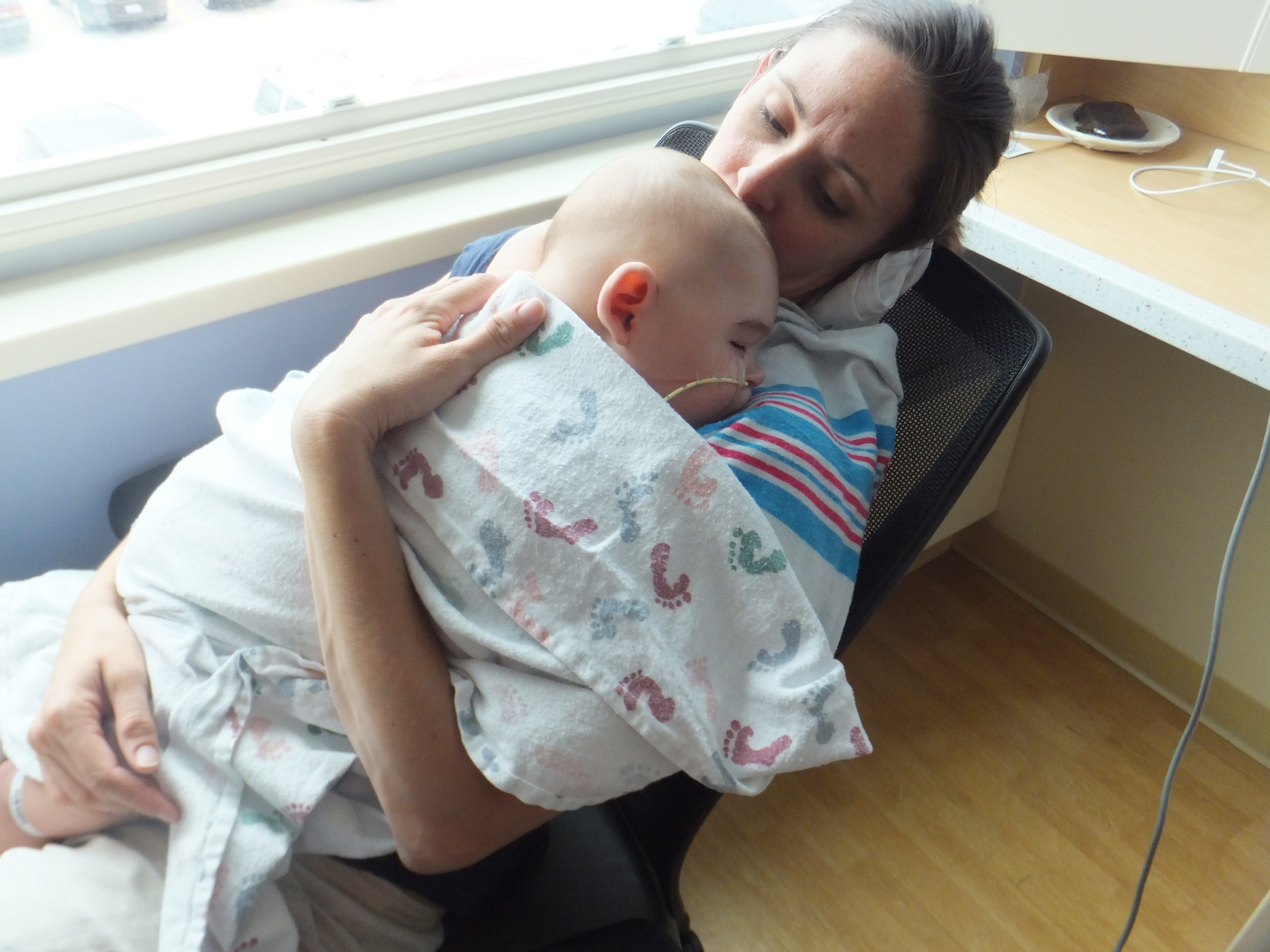 Day 2 Post-Op
June 13, 2014
Jacob is already breathing better! I kept getting up every hour during the night because his breathing was so quiet. I didn't realize how accustomed I was to his noisiness. It is reassuring to know that the surgery is working and his airway is unobstructed. Even the nurses noticed how much his breathing has improved.
Jacob continued to eat from his bottle, but some feedings were easier than others. He often wanted to shut down and would close his eyes, but the nurses encouraged us to continue feeding him so we would squeeze the milk in his mouth for him and all he had to do was swallow. His tongue was much more swollen today, than the first day and I think this accounted for a lot of his frustration and discomfort with feeding. They eventually took the feeding tube out and we were discharged on Day 2.
The second night, after we were discharged from the hospital, was the most difficult in terms of feeding. The nurses told us not to give him Tylenol every 4 hours, but only as needed. This completely backfired and we were left with an inconsolable infant who refused to eat. We decided to give him Tylenol every 5 hours, at least until the swelling goes down.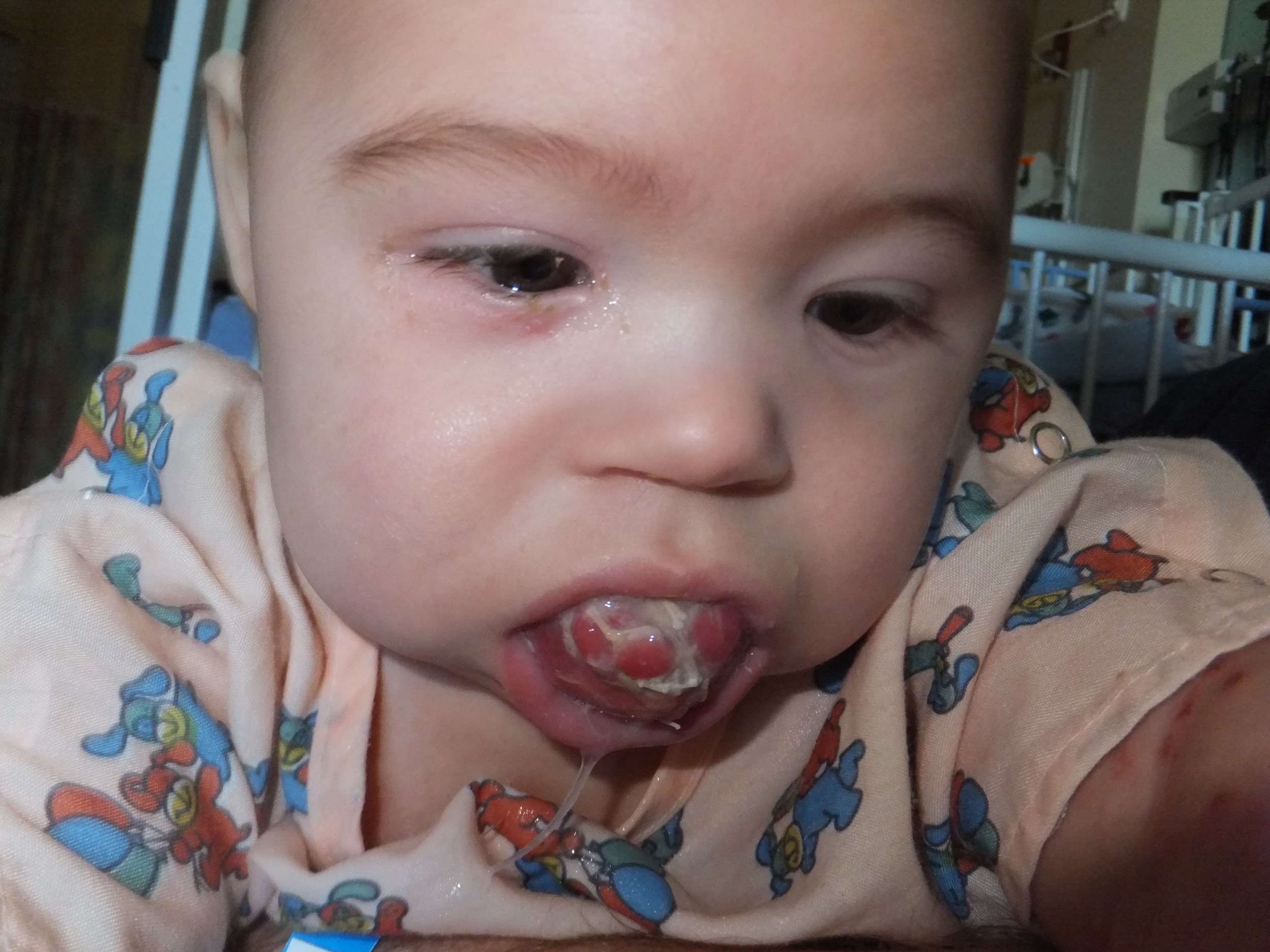 Day 3 Post-Op
June 15, 2014
Jacob is still really swollen, and we are fighting him to eat. He will only take breastmilk so mommy is pumping double time. We are praying that each day will get easier as the stress of having to hold him down when he is crying during feedings is beginning to wear on us both.
We decided to take a walk around the Ronald McDonald House. Getting outside in the sun, breathing in the fresh air, and admiring the view was a great way for us all to relax before we head home tomorrow.
Post-Op Feedings
The feedings are the most difficult part of the surgery. Jacob is all smiles until it is time to eat, or if his pain meds wear off. We have tried putting the bottle pointed towards his cheek a little more, since his tongue is so swollen it is hard for us to get the bottle in his mouth. The second part Jacob seems to get frustrated about is the milk flow. It's either too fast from squeezing too much and he chokes, or it is too slow and he gets upset. It took awhile to find a rhythm and get the feel for how much to squeeze and when. We tried to listen to when he swallowed: squeeze-squeeze-swallow and repeat. Here is a picture of the bottle they had us use, a MeadJohnson, and the nurse practitioner made a large opening in the nipple so the milk comes out easier. It leaks a lot and its messy, but it does allow us to get the milk in his mouth without Jacob having to do too much work.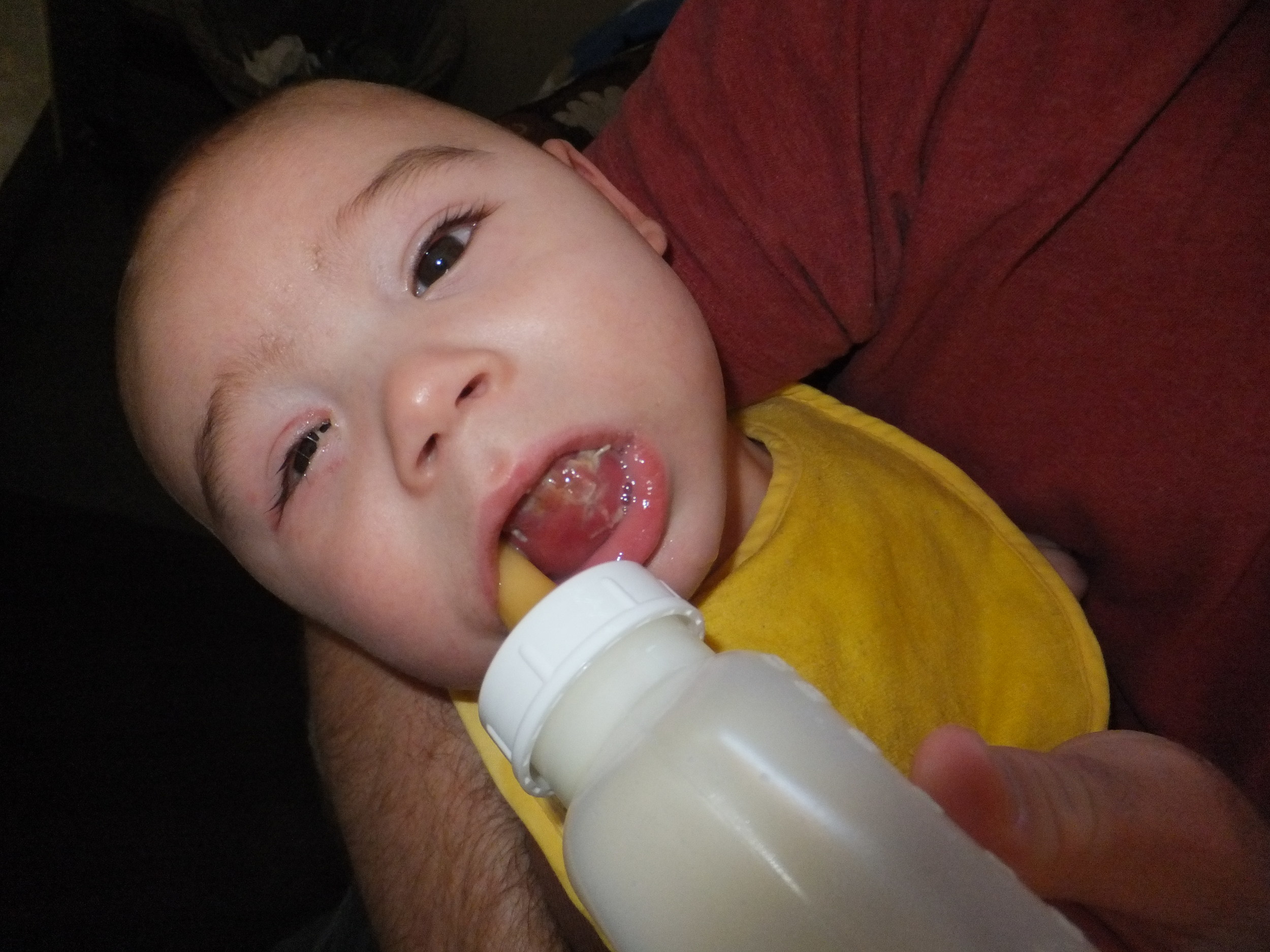 Day 4 Post-Op
We are so happy to be home and we notice Jacob seems a lot happier to have all his toys back! We have Grandma and Grandpa in town to help out, which was a great help because feedings are still very difficult. He is fighting us less, but he continues to choke and scream the entire time. It is so hard to watch and we are praying for his tongue to heal quickly.
Day 6 Post-Op
We are amazed how much the swelling has already gone down! His tongue is looking so much better and he is smiling a lot more.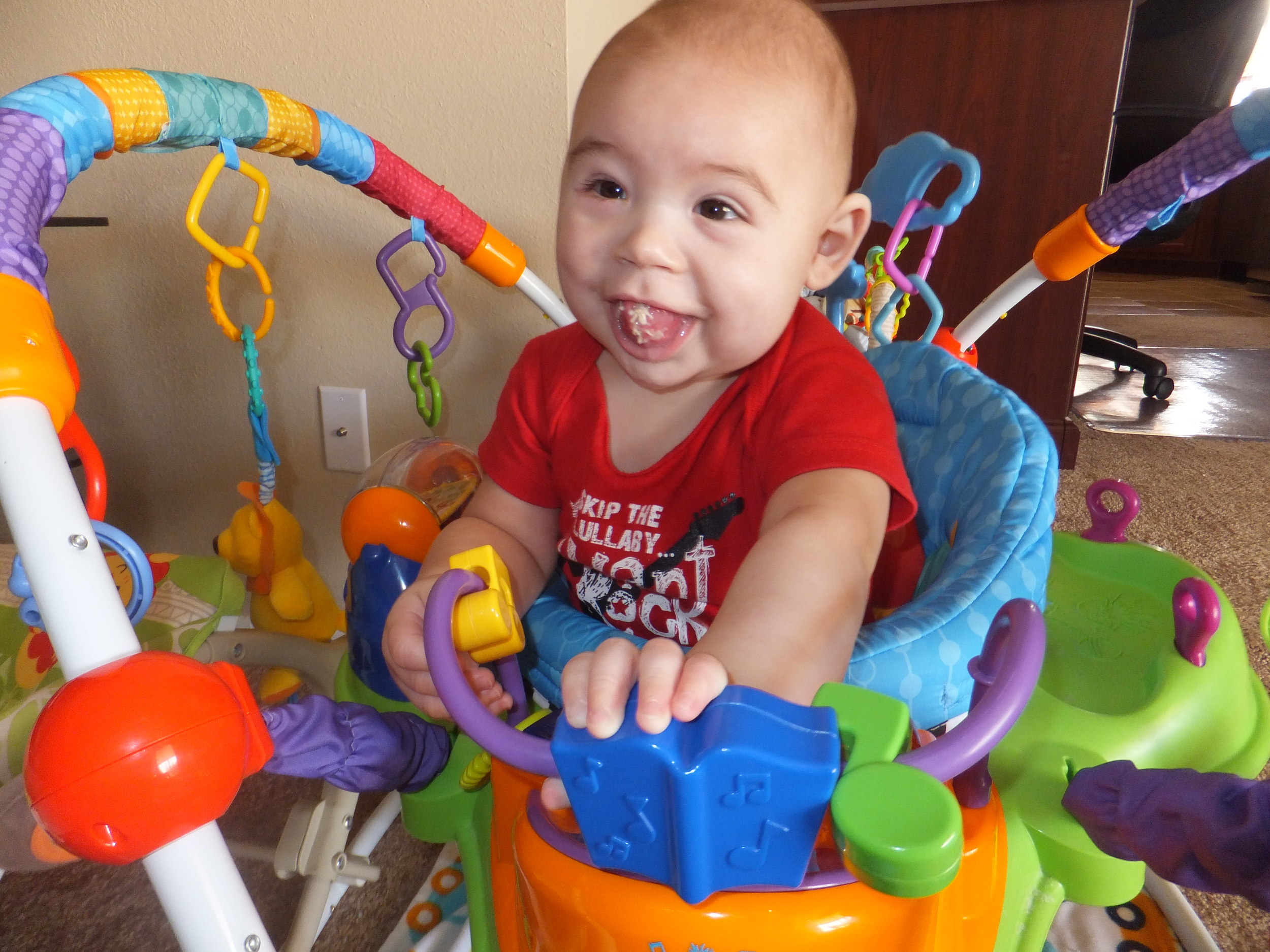 Day 10 Post-Op
We have a drool monster! We go through a TON of bibs and clothes every day. I am doing several loads of laundry to try and keep up. Our support group friends told us to buy the Green Sprouts Bibs and I have to say they work wonders. We bought 2 packs (20 total) which would be the minimum you will need. Jake sometimes soaks through 3 bibs in an hour.
Jacob can also close his mouth around the bottle for the first time ever! I am overjoyed to see him able to eat better and I can't wait to start feeding him solid foods.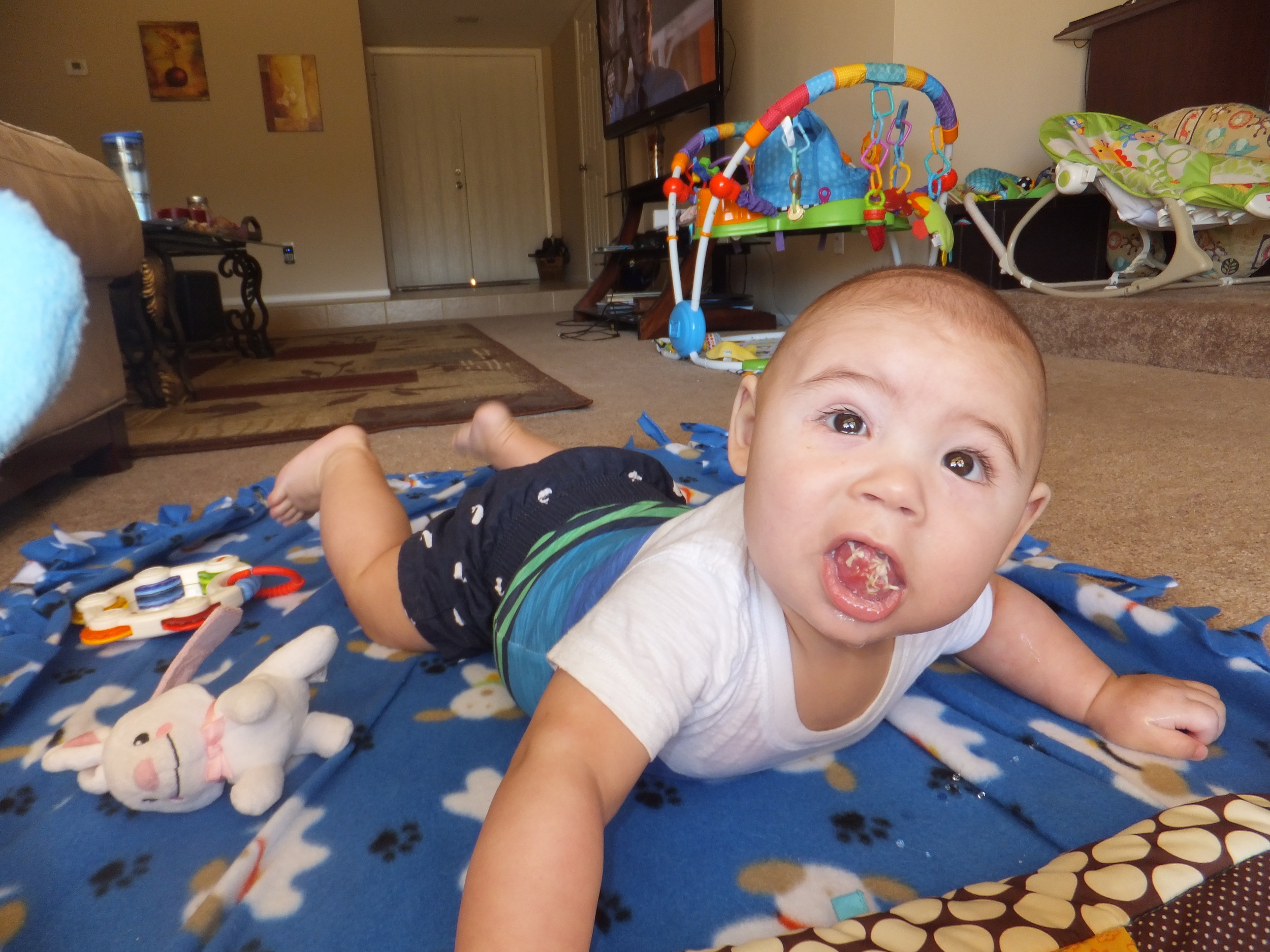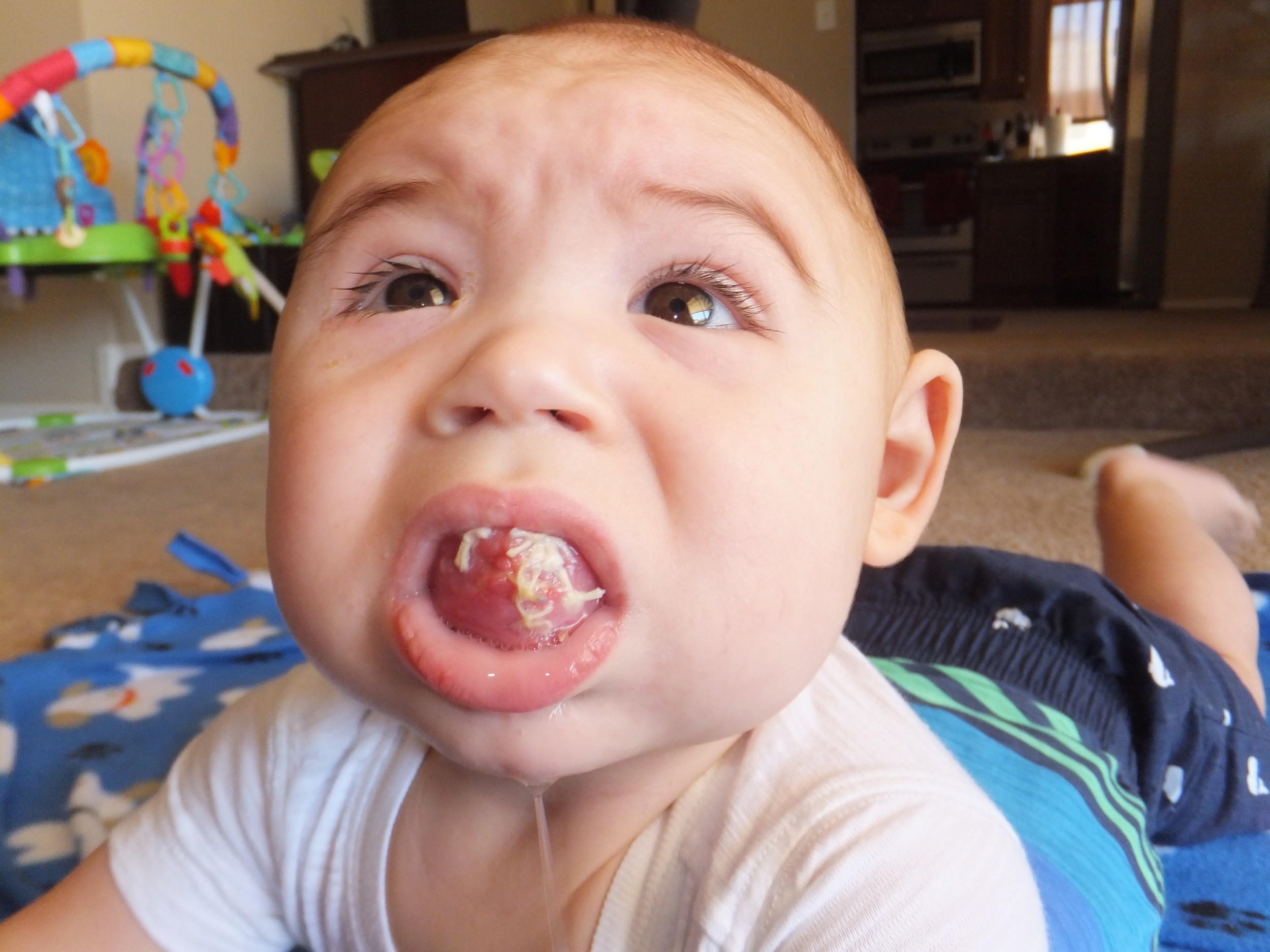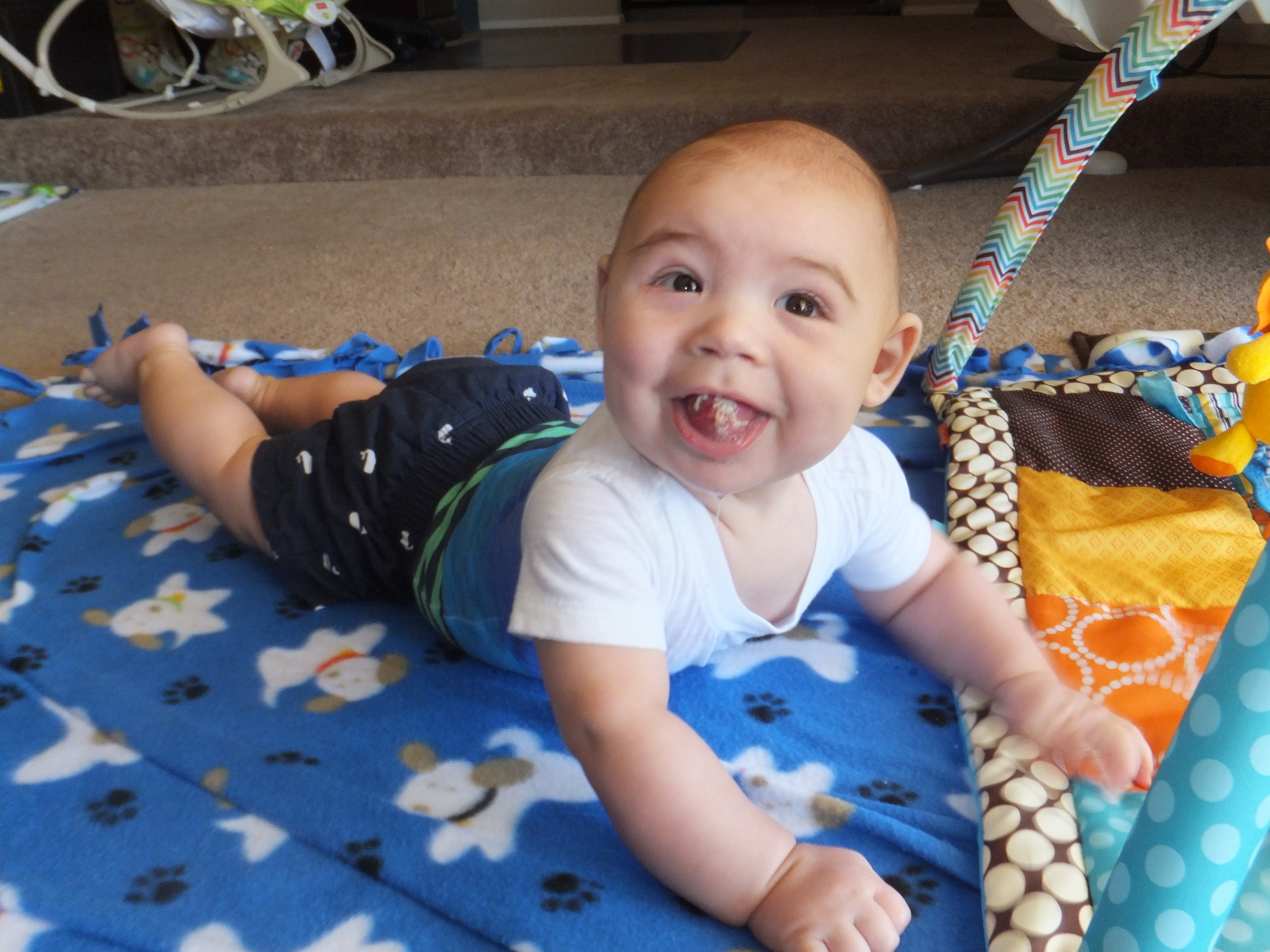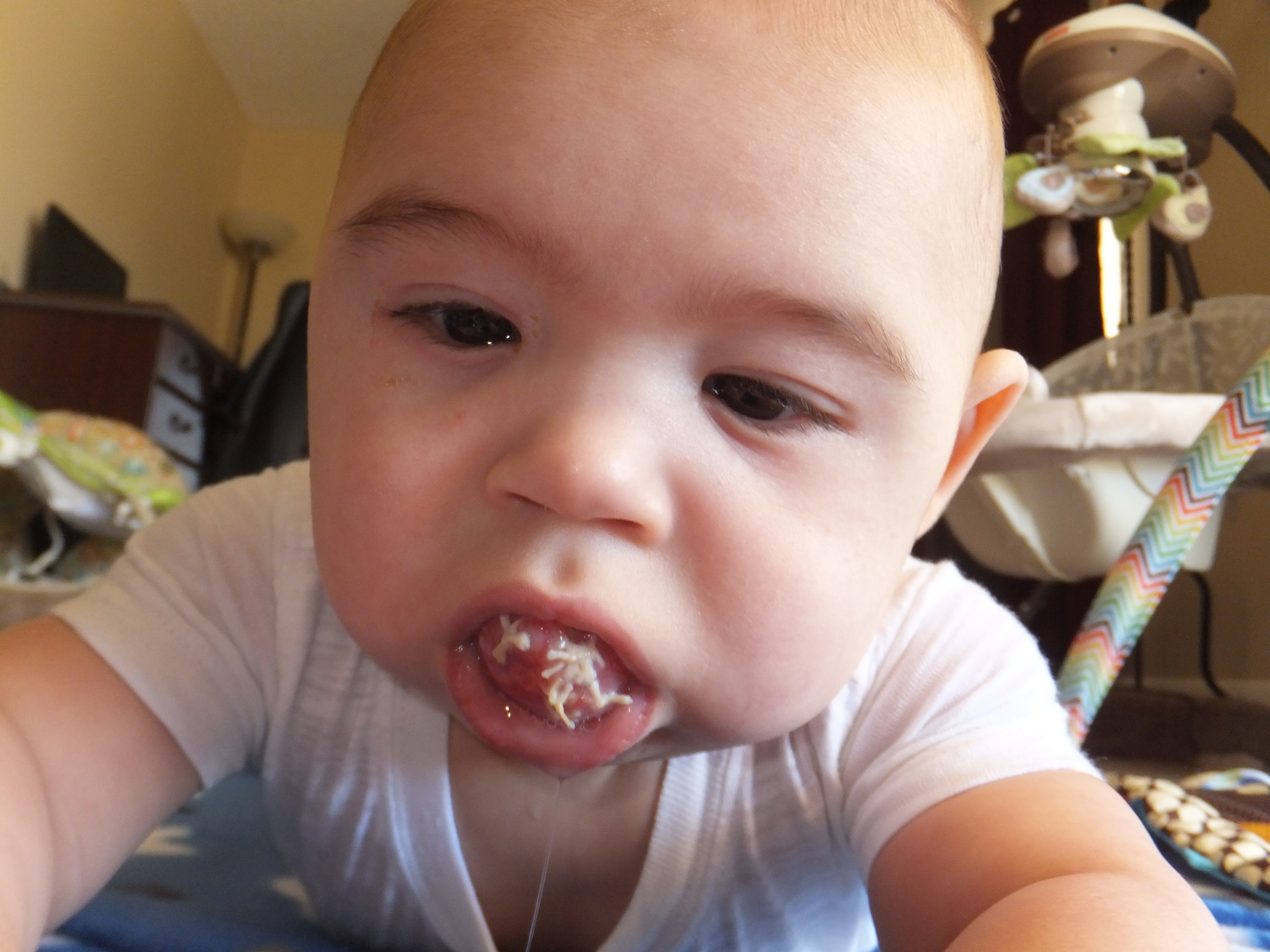 Week 2 Post-Op
Jacob's tongue is healing well and he is beginning to close his mouth more. He can even feed from a normal bottle! Yay! So glad to be done with the squeeze bottle. He was using the Tommy Tippee bottles (wide based nipple) prior to surgery, but is actually feeding better using a normal Medela bottle. Jake still has quite a few stitches and we are trying to encourage him to put teething toys in his mouth to help his tongue heal faster.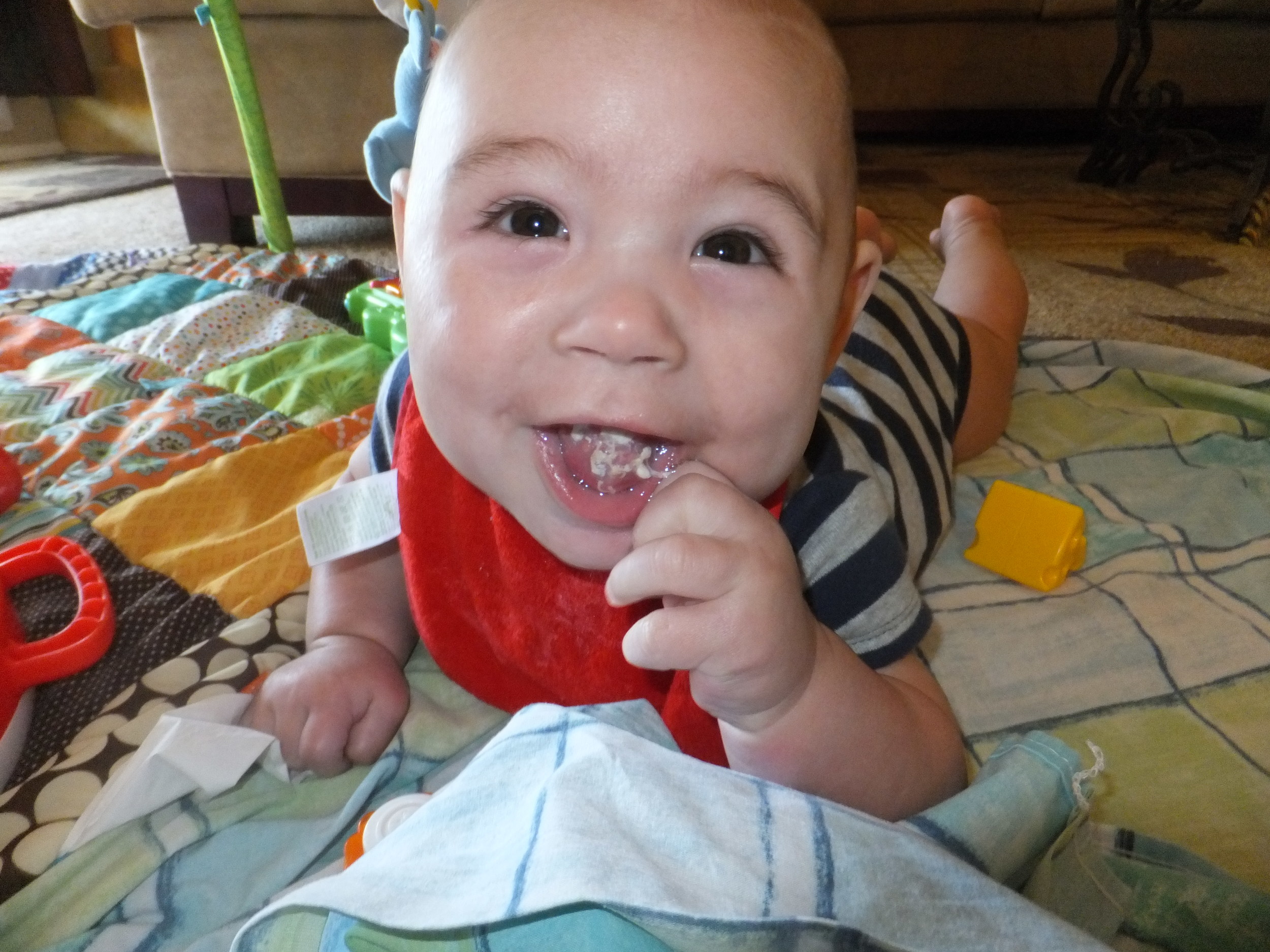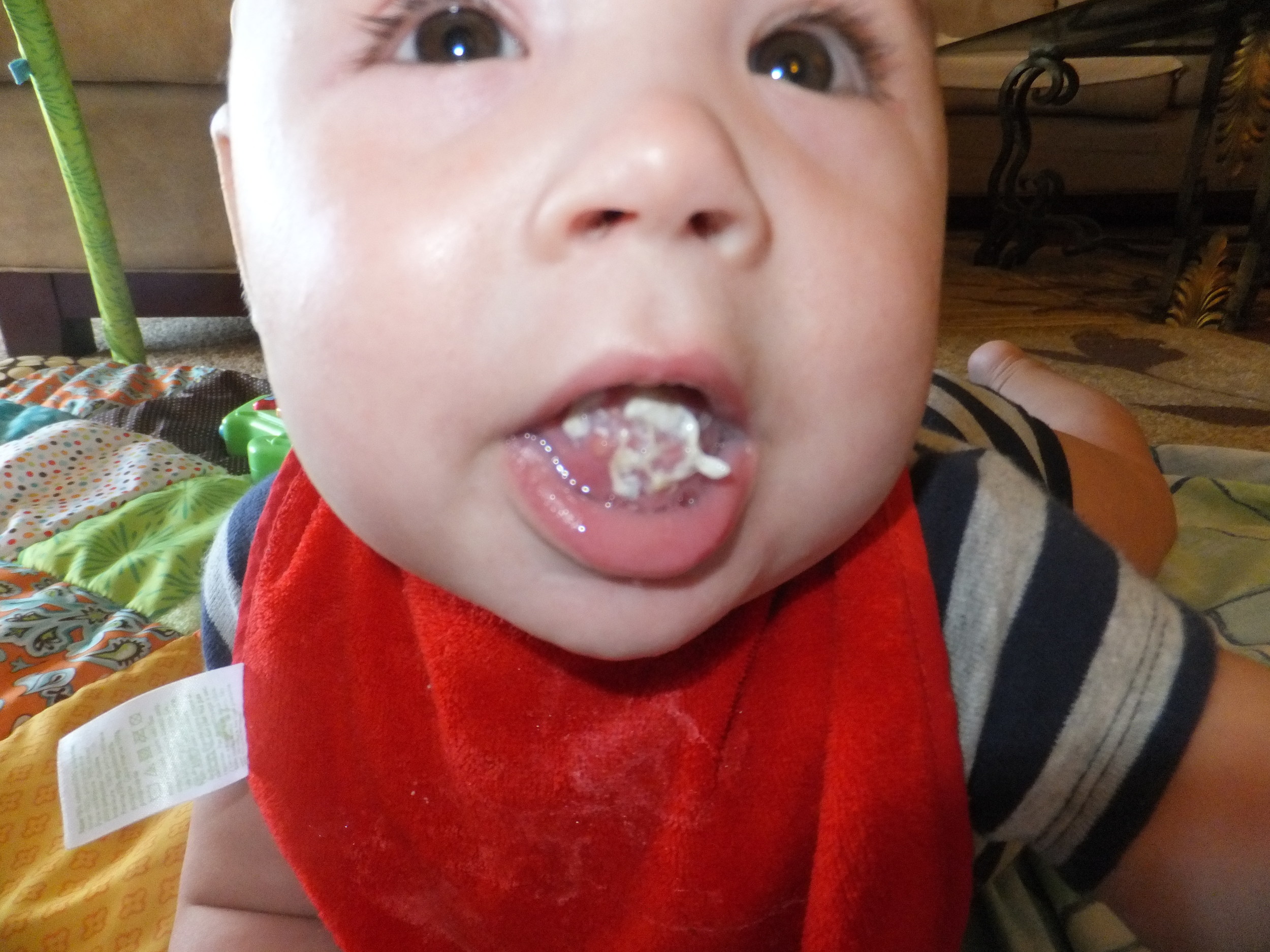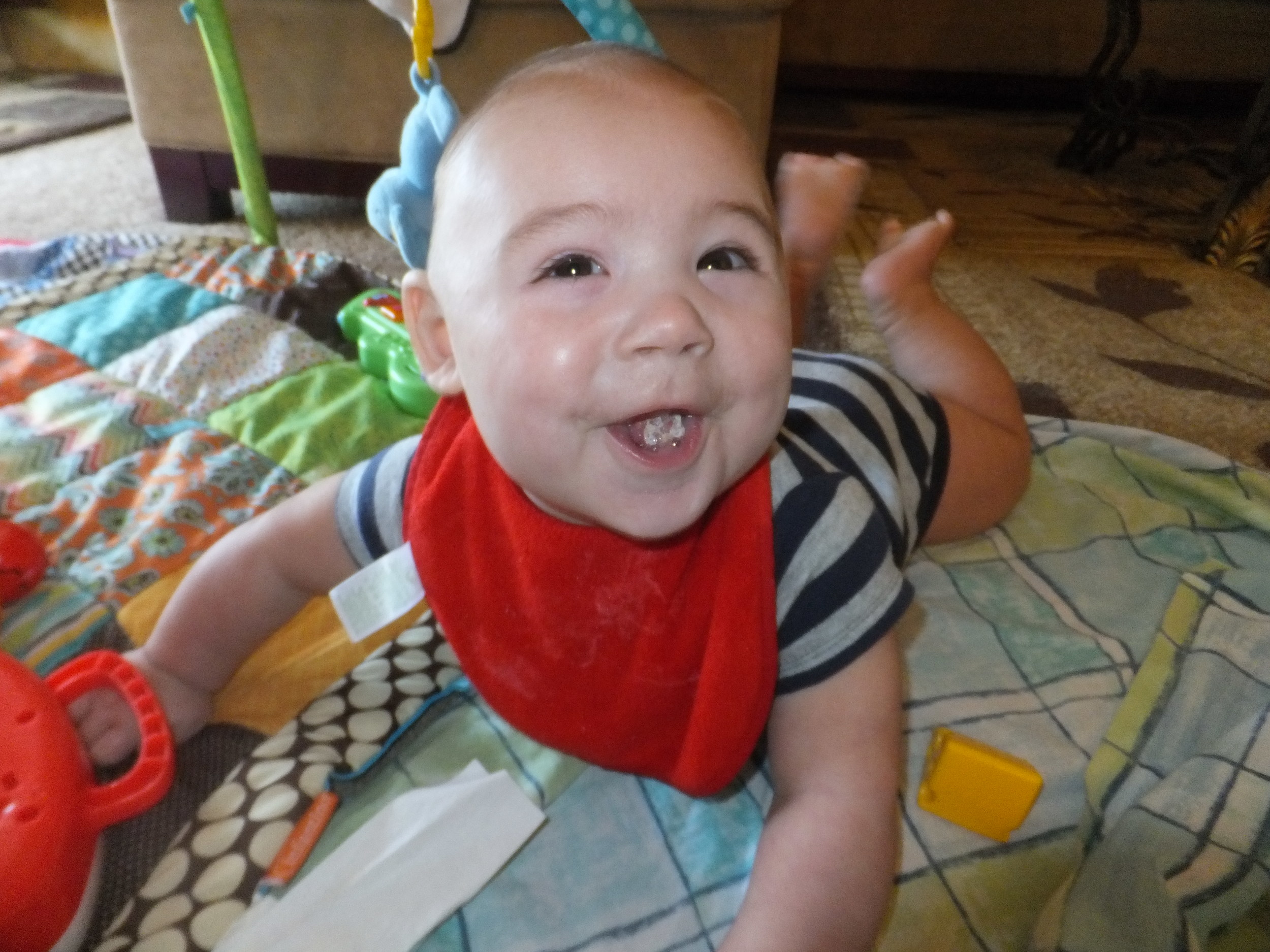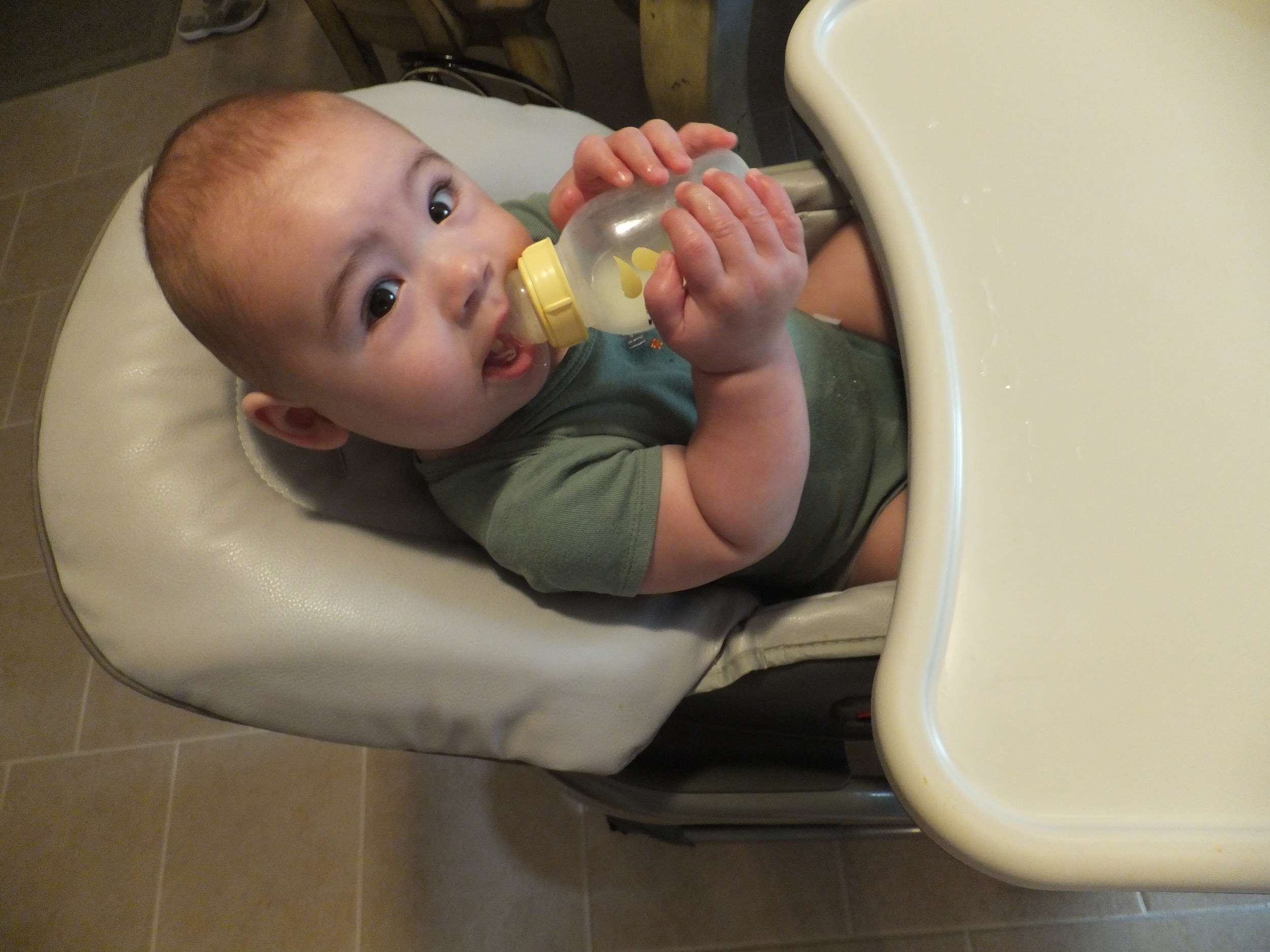 Week 3 Post-Op
We have bubbles! Jacob closed his lips together for the first time and blew bubbles. He is my little firecracker. I cannot tell you how elated I was to watch him do this. To most, it seems like a small task, but to us it means the world. It means he is healing and will be able to do normal tasks, such as eating solid foods, articulating sounds, and blowing kisses. I still miss his tongue-filled smile and continue to look back on his pre-op pictures and smile at his large tongue. I miss the way he would kiss us with his open mouth and tongue out. But, I know this is what was best for him and we are so happy to see him progressing!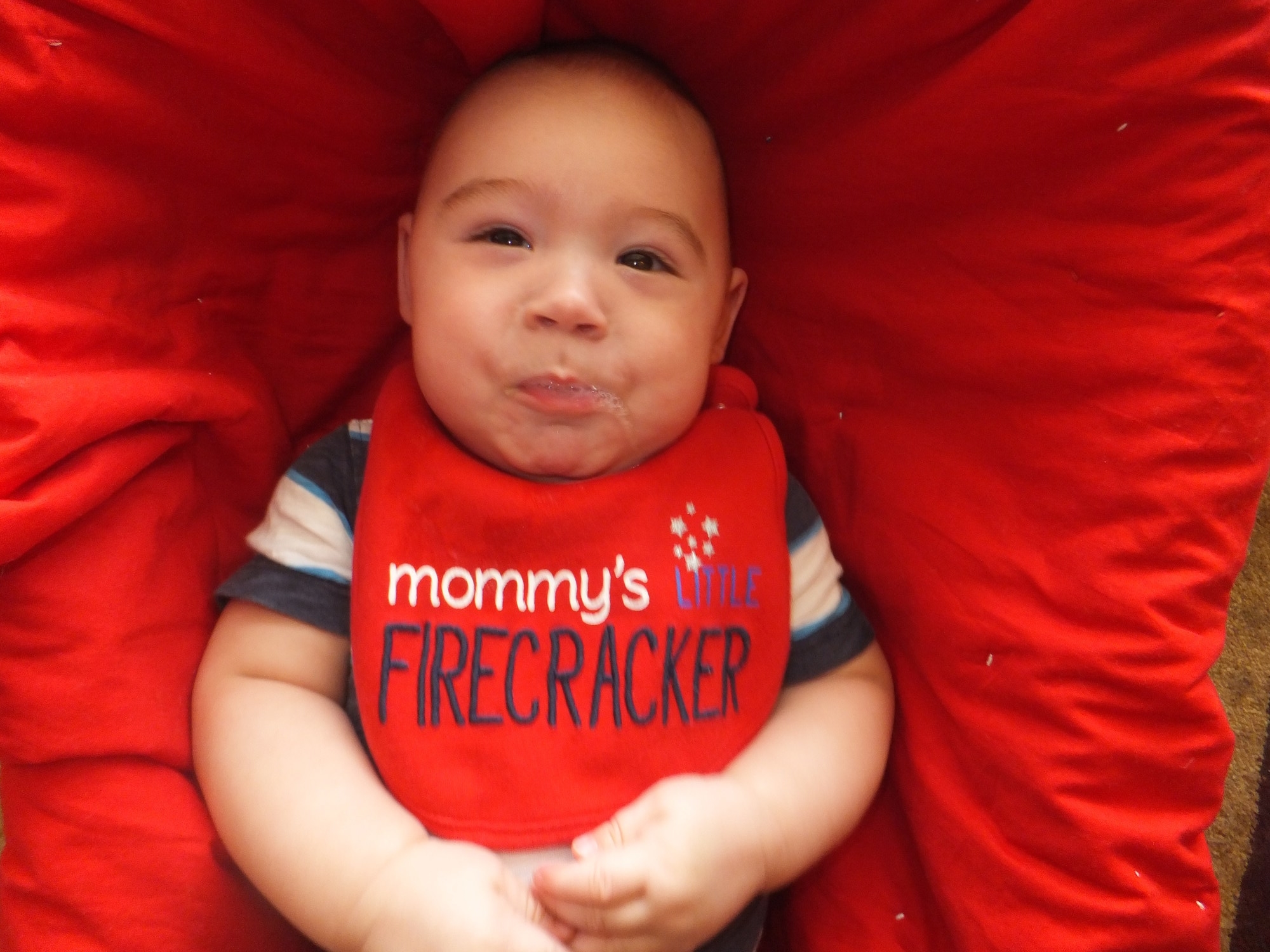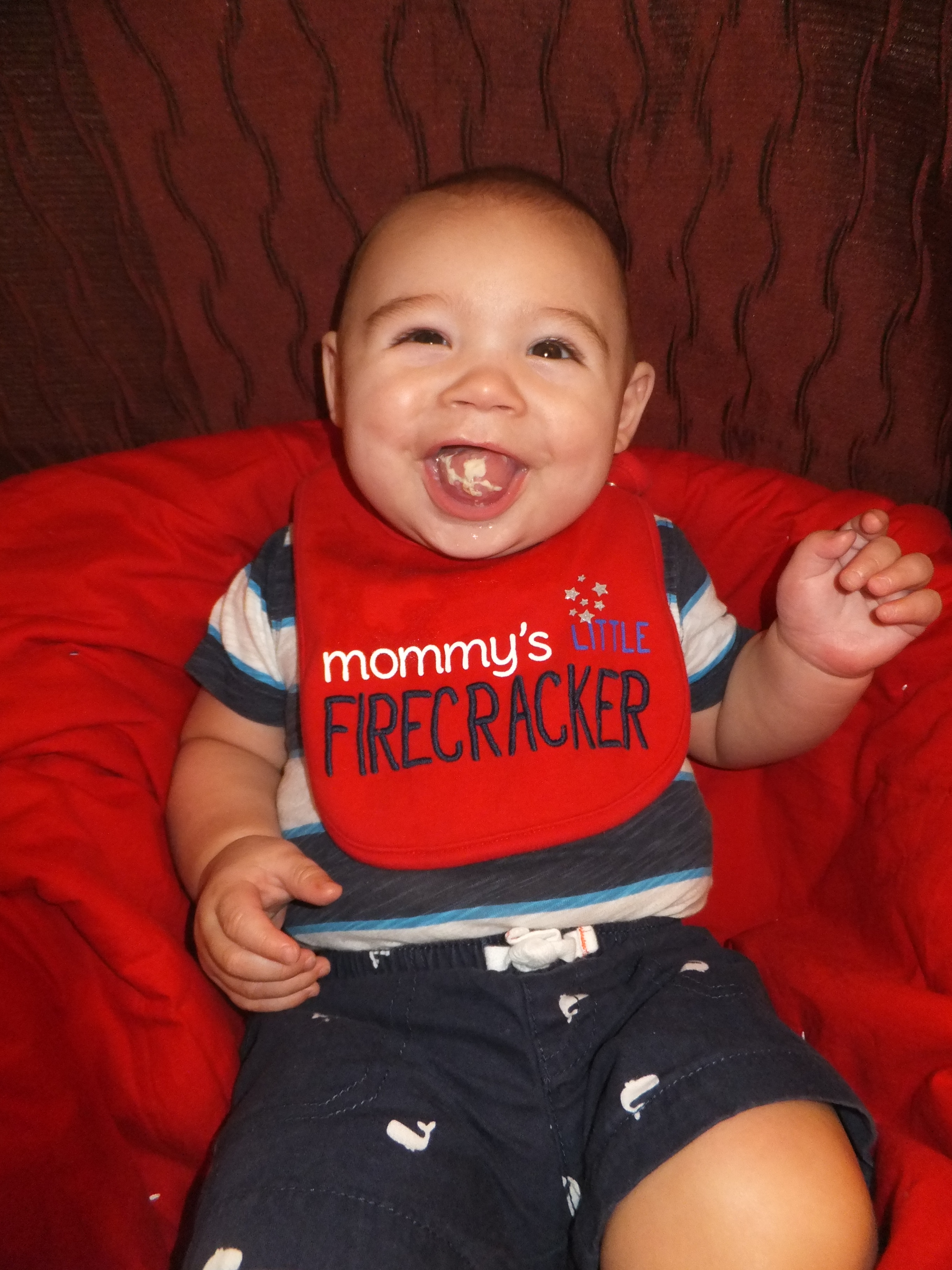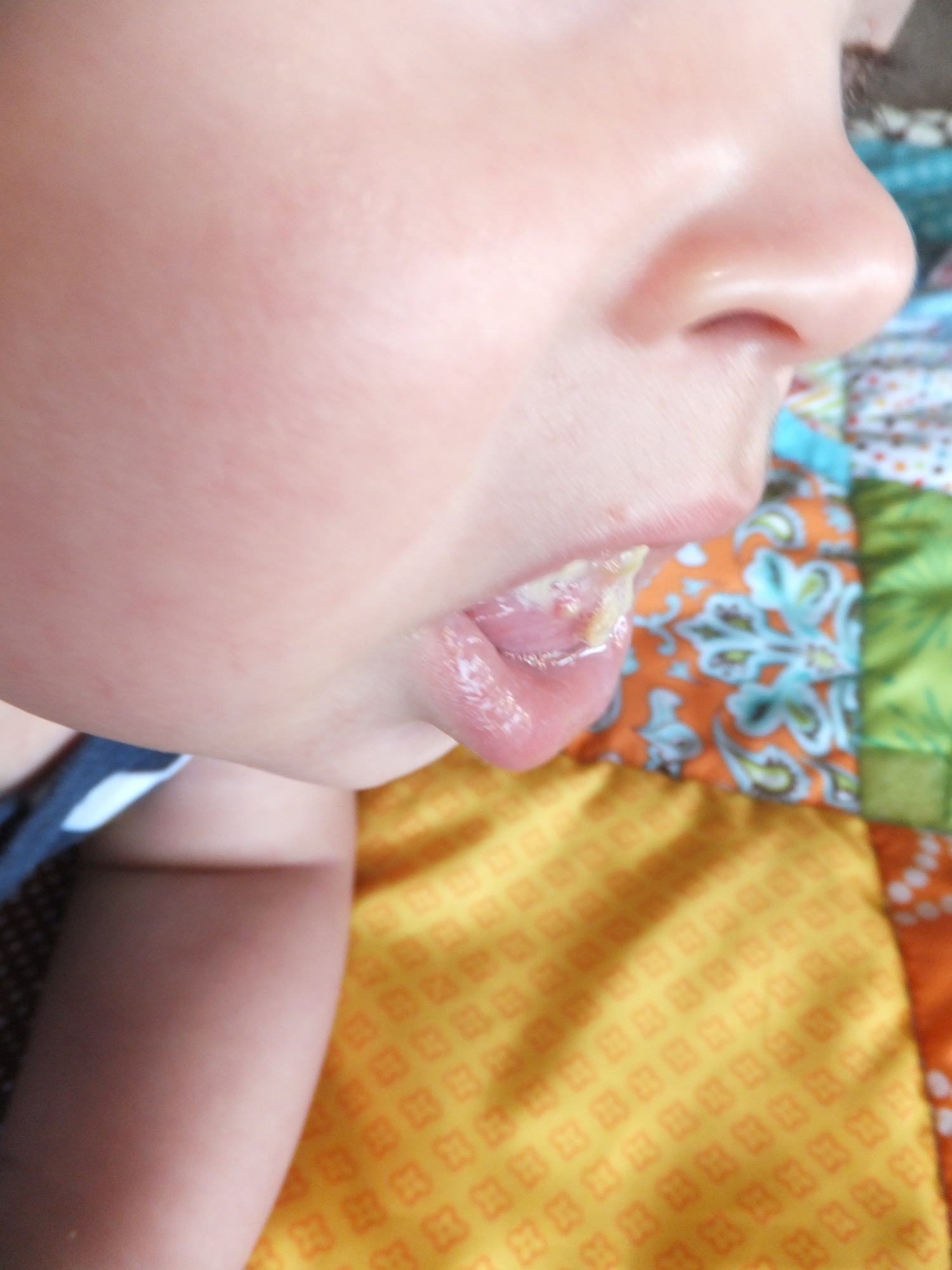 1 Month Post-Op
We are amazed at how well his tongue is healing. Most of his stitches have dissolved and only a few remain in the front with a few scabs that come and go. He is eating solid foods like a champ and makes silly faces. One thing we noticed is he has regressed in making sounds and babbling. He makes one sound and that is screaming! Jacob used to babble and make various sounds like "ga-ga" and "guh-guh". Now post-op he has not made any yet. We have an appointment with a speech therapist next week to have him assessed for speech therapy.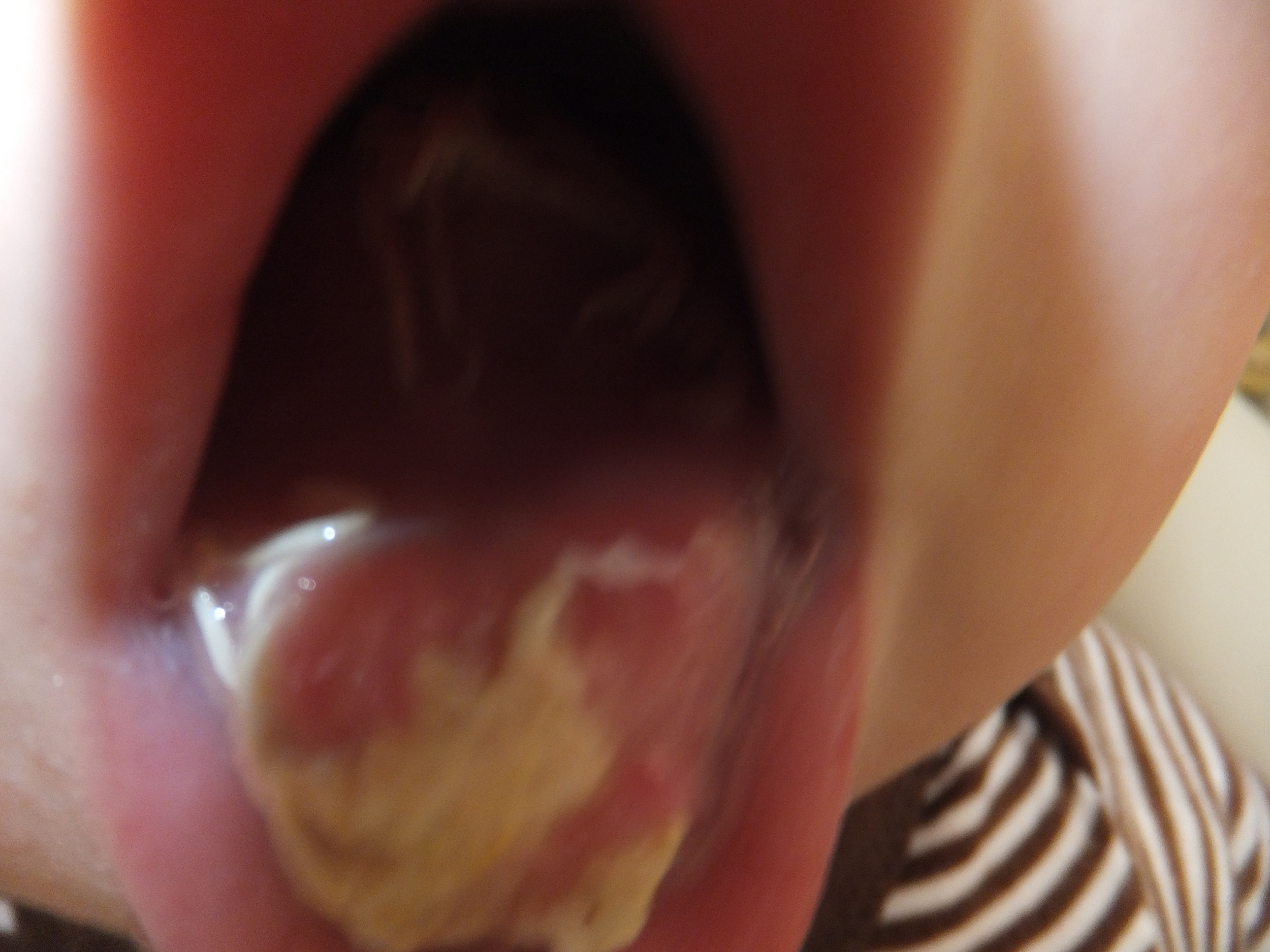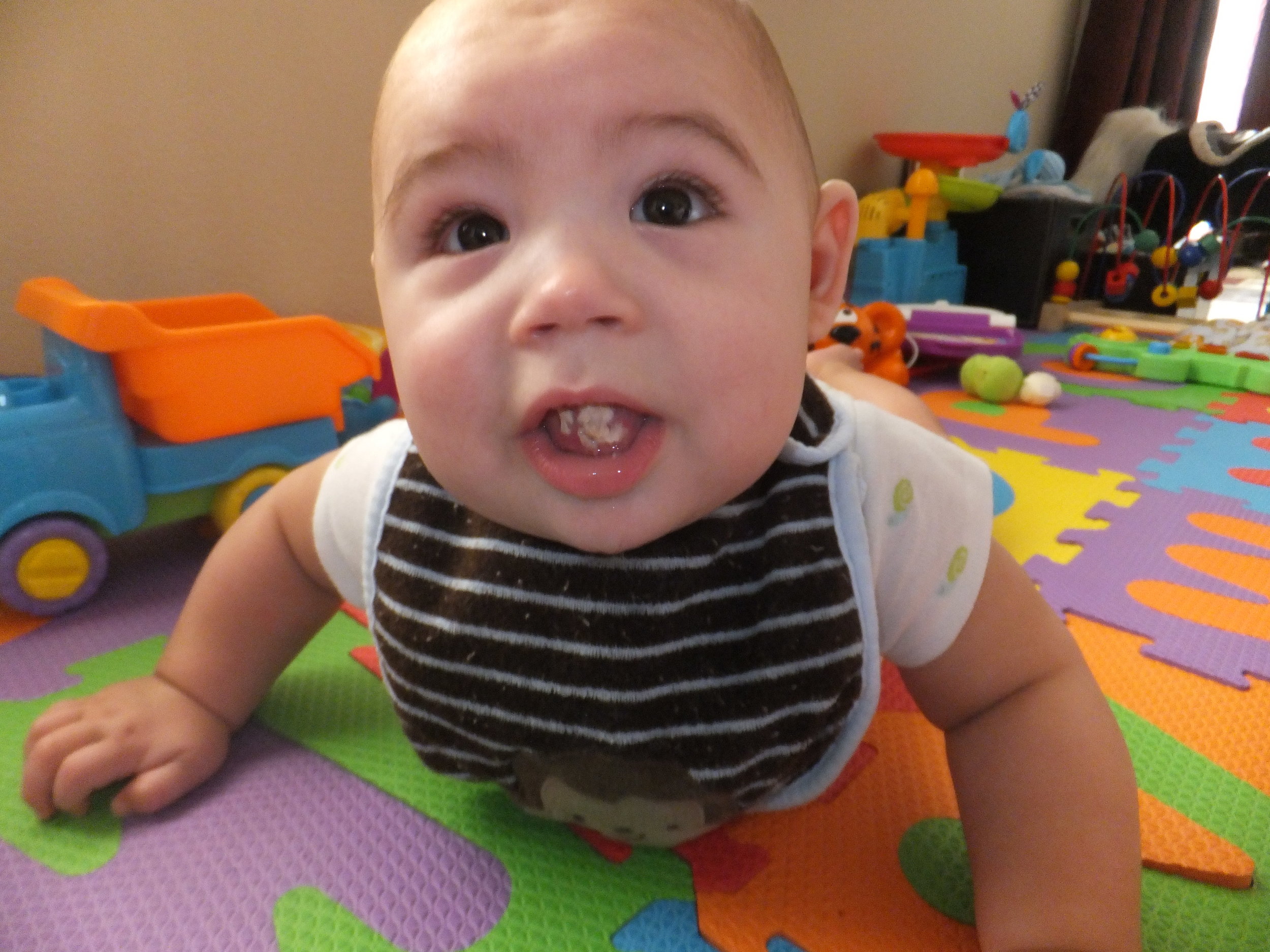 6 Weeks Post Op
Ryan and I were getting Jacob ready for bed when he sneezed and this happened! We all just stared at each other for a moment before laughing. Jacob was quite confused as to what was so funny. Mommy was very brave and she clipped the hanging stitches with a nail clipper.
8 Weeks Post Op
Jacob is stitch free! I thought those stitches would never leave. Jacob seems so much happier to have his stitches gone and he is babbling and cooing more. Although he still chooses to keep his mouth open the majority of the time which causes a lot of drool. He is also very hesitant with putting toys and pacifiers in his mouth. We are trying to encourage him to use his tongue more through spoon feedings and teethers. He has an intense gag reflex and the only way I can get him to keep food in his mouth is by putting it in his cheek like a chipmunk. Unfortunately, we are still waiting for the state to provide us with a feeding therapist.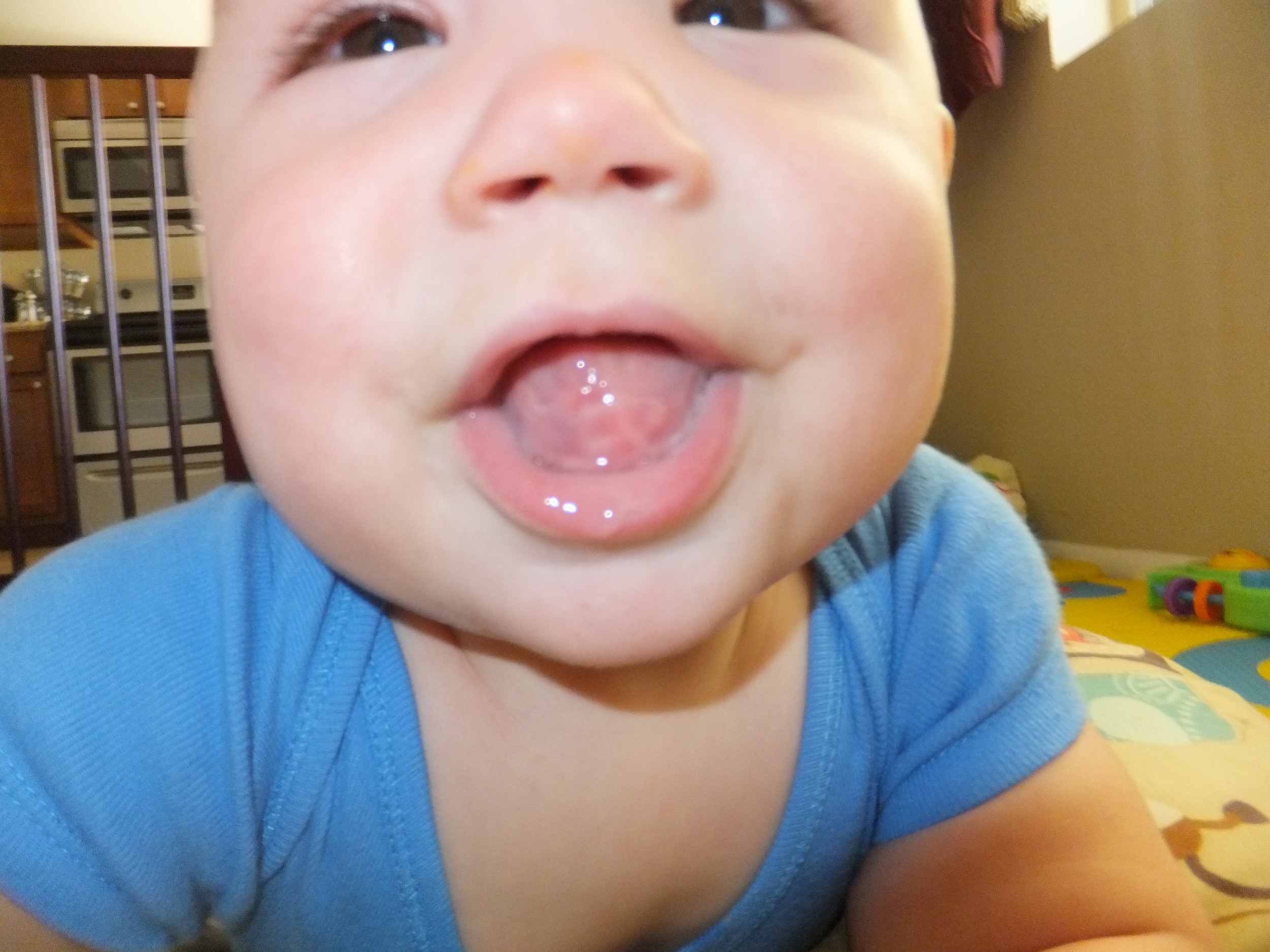 A Summary of Jacob's TR Journey
Pre-Op Photos
It still amazes me to look back at Jacob's baby photos prior to his tongue surgery. At birth his tongue wasn't that large, but it continued to grow each month. He was able to pull his tongue in his mouth, but could not keep it inside without causing breathing issues. I forget how large his tongue really was. Oh how I miss those slobbery tongue-y kisses!